Paul Gascoigne in 1992 against Norway but he would have missed the World Cup Finals
Please also see my
All-Time World Cup Team Index.
England
United Kingdom
Sweden World Cup 1950
Austria-Hungary 1954
Argentina World Cup 1958
Scotland World Cup 1970
United Kingdom World Cup 1970
England World Cup 1974
United Kingdom World Cup 1982
Yugoslavia World Cup 1994
France World Cup 1994
Germany World Cup 2002
Netherlands World Cup 2002
USA World Cup 2010
Brazil 1982 with Careca, etc
Netherlands Euro 1984
English-born players capped by other national teams
I have create imaginary World Cup teams for United Kingdom in 1970 and 1982 Finals. I do believe United Kingdom could have won the World Cup in 1970 and made a good run in the 1982 World Cup Finals. However, the idea of this United Kingdom's 1994 World Cup team was born out of the weakness from England, Scotland, Northern Ireland and Wales. In 1993, all four of United Kingdom's national teams failed to qualify for the 1994 World Cup Finals in the United States. At the time of writing, it is the only time in history since the British teams first entered the World Cup tournament where none of the British teams qualified for the World Cup Finals.
For the 1970 and 1982 United Kingdom team, I was looking at a "Dream Team" that could win it all. For this 1994 team, I was trying to see if this United Kingdom could do better than their original separated national teams.
England at the end of the World Cup Qualifier
Prediction for the World Cup Qualifying
On paper, this United Kingdom can field the likes of Neville Southall, John Barnes, Alan Shearer, Ian Rush, Ryan Giggs, etc on the same field. Basically, England could reinforce with two of Wales' greatest players. However, none of the British players in 1994 were in their prime. Southall, Barnes and Rush were over 30 years old. Alan Shearer was 22 years while Giggs was only 19 years old at the time of the qualifying rounds.
Formation during the Qualifiers
Paul Gascoigne was injured in April of 1994, but he would still be healthy during the World Cup Qualifying Rounds. Peter Beardsley just joined Newcastle United in the summer of 1993 after disappointing in Everton. He had not played himself in consideration throughout the World Cup Qualifying rounds. Paul Parker or Rob Jones might start ahead of Lee Dixon. David Seaman had not established as England's number one until the summer of 1993. The United Kingdom would probably go with Neville Southall. Colin Hendry made his national debut in May, 1993 for Scotland. So basically, this United Kingdom would only have three additional starters to the original England, namely Gary McAllister, Ian Rush and Gary Southall. So it was not a big upgrade. When I came across the idea of an United Kingdom team, I envisioned a better team.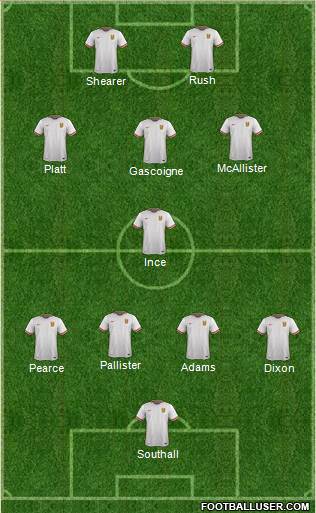 The First question: Would they even qualified for the World Cup Finals? When I first started this blog team, I never imagined the possibility of this UK team not qualifying. After doing some research, I still think the UK team could qualify, but not as dominating as I anticipated.
Group 1:
In real life, Scotland finished 4th behind Italy, Switzerland and Portugal. Italy would reach the Final in the World Cup Finals with the likes of Roberto Baggio, Franco Baresi, Paulo Maldini, Giuseppe Signori, Roberto Donadoni, etc. Swizterland was having their best team in years with Stéphane Chapuisat and Ciriaco Sforza on their lineup. Portugal had a young team that included two future stars, namely Rui Costa and Luis Figo. They also had Paulo Futre. I do not think the United Kingdom could beat Italy, but beating Switzerland and Portugal were very possible.
Group 2
This group had a clearer indication of the United Kingdom's chance because the majority of the players on the United Kingdom team were from England. England finished third behind Netherlands and Norway. Norway who was considered a minnow before the start of the World Cup Qualifiers was in confortable position throughout the group games. The reinforcement of just a few non-English players might not be able to overcome them. Netherlands was having their rebuilding years. They still had Dennis Bergkamp and Frank Rijkaard. Ruud Gullit had problems with manager Dick Advocaat. He did not play much in the World Cup Qualifiers. Marco Van Basten was out for an entire season. People did not know at the time that he would not be back again. However, England was only two points behind Netherlands. In real life, England drew 2-2 with Netherlands at home. They surrendered a 85th minute penalty after going up 2-0. England might be able to take all the points with a few additional players. They also could produce a better result against other opponents such as 1-1 away tie with Poland with this UK team.
Gorup 3:
In real life, Northern Ireland stood no chance against Spain, Ireland and Denmark. Spain was not a bad team. They probably have enough to beat this United Kingdom. Denmark was the reigning European Champion with Michael Laudrup back in the team. On paper, Denmark would be difficult for the United Kingdom, but they could not overcome Ireland in real life. Ireland used a lot of English born players under manager Jack Charlton. So on paper, this United Kingdom could handle this "English-based" team easily, but manager Jack Charlton was able to create a team that could beat anybody in 1993 and 1994. Ireland has beaten England at Euro 1988, a result that shocked all across the United Kingdom. They also proved themselves at the 1990 World Cup Finals.
Group 4
Wales finished 4th, but just 3 points away from the top qualifying teams, Romania and Belgium (only two points were awarded for a win in 1993). Romania was having their Golden generation. They would beat England in the 1998 World Cup Finals and the 2000 European Championship. And those two English teams might be better than this UK team. England featured the likes of David Beckham, Paul Scholas, Alan Shearer, etc. Of course, Romania was also a much more inexperience team in 1993, but they peaked in the 1994 World Cup Finals. Gheorghe Hagi was in his prime. Belgium and the Czech Republic (finished 3rd in the group) were beatable. The Czechs did not have the same players as their team that reached the Final in Euro 1996.
Ian Rush scored against Romania in the qualifying round
Team in the WC Finals (only 22 allowed in 1994)
GK: Neville Southall (Wales/Everton)
Neville Southall was the FWA Football of the Year in 1985 and one of the few keepers to win the award. He was regarded as one of the best British keeper of his generation in a generation filled with great keepers. He started with Bury, but played most of his career with Everton, where the club was enjoying its most successful period. He won two First Divison title and two FA Cup with them. He had 92 caps for Wales.
Ian Rush and Neville Southall
GK:
David Seaman
(England/Arsenal)
The peak of Seaman's career was during his period as Arsenal and England goalkeeper in the 1990s and early 2000s. At Arsenal, he won three league championships, four FA Cups, the League Cup in 1993 and the European Cup Winners Cup in 1994. He also played in the 1998 and 2002 World Cups, and Euro 96 and Euro 2000, and is England's second-most capped goalkeeper with 75 caps.
GK: Tim Flowers
(England/Blackburn Rovers)
Flowers began his career with Wolverhampton Wanderers in 1984. He was Peter Shilton's unberstudy with Southampton before becoming their starter in the 1989–90 season. He was notably part of the Blackburn Rovers side that won the Premier League in 1995. He also played for Swindon Town, Leicester City, Stockport County, Coventry City and Manchester City. He had 11 caps. He went to both Euro 96 in England and the 1998 World Cup.
RB: Lee Dixon (England/Arsenal)
Lee Dixon played as a right-back for Arsenal, Burnley, Bury, Chester City and Stoke City. He was a part of Arsenal's famous back four along with Tony Adams, Steve Bould and Nigel Winterburn. Dixon is also one of the only players in English football history to have won a league title in three different decades with the same club.
CB:
Tony Adams
(England/Arsenal)
Tony Adams is a club legend and one club man with Arsenal who became the club captain at the age of 21. A stature of him is erected at the Emirates Stadium. He formed the legendary backline with Lee Dixon, Nigel Winterburn and Steve Bould with club. He was a fixture for England from 1987 to 2000. For England, he had 66 caps and served as its captain at one point. He played in the World Cup Finals in 1998 and went to three European Championship.
CB: Des Walker (England/Sheffield Wednesday)
Walker played 59 times for England. He started in all of England;'s games at the World Cup Finals in 1990. He was rated as one of the best defender at that Finals. For club football, he mainly played for Nottingham Forrest and Sheffield Wednesday. He played one season at Sampdoria in then 1992-1993 season. He was Forest's player of the year three times. On four straight occasions at Forest he was selected for the PFA Team of the Year.
Des Walker in the World Cup Qualifers
CB:
Gary Pallister
(England/Manchester United)
Pallister played for Middlesbrough before he moved to Manchester United in 1989. His transfer broke the national record for a fee paid for a defender, as well as being the highest fee between British clubs. By the time of his departure from Old Trafford after nine years, he was the only player to have collected winner's medals in all of the club's successes under Alex Ferguson's management. He was capped 22 times.
CB: Colin Hendry (Scotland/Blackburn Rovers)
Hendry started his career with Dundee in 1983. and spent spells at Blackburn Rovers, Manchester City, Rangers, Coventry City, Bolton Wanderers and Blackpool. He was part of the Blackburn squad that won the English Premiership in 1995 and the Rangers squad that won the Scottish domestic treble in 1998–99. He played 51 caps for Scotland. He captained Scotland in the 1998 World Cup.
LB:
Stuart Pearce (England/Nottingham Forrest)
Stuart Pearce was a club legend with Nottingham Forrest. He was the club's most capped international player with 78 caps between 1987 and 1999. He played at the World Cup Finals in 1990 and the European championship in 1996 at home, where England had the best two results since the World Cup win in 1966. He also played for
Wealdstone, Coventry City, Newcastle United, West Ham United and Manchester City.
LB: Tony Dorigo (England/Leeds United)
Born in Australia, Tony Dorigo chose to represent England. He had 15 caps. He went to the European Championship in 1988 and 1992 as well as the 1990 World Cup Finals. For his club career, he played for He played for Aston Villa, Chelsea, Leeds United, Torino, Derby County and Stoke City. He had lengthy spells with Aston Villa, Chelsea and Leeds United.
DM: Paul Ince (England/Manchester United)
From 1992 to 2000, Paul Ince was capped 53 times. He was a key player for England at Euro 1996, WC 1998 and Euro 2000. For his club career, he started with West Ham, but his best known stints were with Liverpool, Inter Milan and Manchester United. He is one of the few players who played and starred for both Liverpool and Manchester United.
CM: David Batty (England/Blackburn Rovers)
David Batty is most famous for playing for Leeds United, Blackburn Rovers and Newcastle United. He won league titles with both Leeds United and Blackburn Rovers, but his role with Blackburn Riovers was limited by an injury. He was capped for the England national football team, and representing the nation at UEFA Euro 1992 and the 1998 World Cup.
CM: David Platt (England/Sampdoria)
Platt began his career as an apprentice at Manchester United but later moved to Crewe Alexandra where he began building a reputation as a goal scoring midfield player. In 1988, he signed for Aston Villa and made his debut for England a year later. At the 1990 World Cup, his performances in Italy earned him a move to Bari in 1991.
In 1992, Platt moved to Juventus, where he spent one season. In 1993, he moved to Sampdoria where he stayed for two seasons before returning to England with Arsenal. Capped 75 times.
David Platt
CM/RM: Gary McAllister (Scotland/Liverpool)
Garry McAllister started with Motherwell before heading to play in England. He had a lengthy career with Leicester City, Leeds United and Coventry between 1985 and 2000. Then, he played two seasons with Liverpool, winning the 2000 UEFA Cup. In the final, he scored one, and had a hand in three, of the five Liverpool goals in a memorable 5–4 victory. He was awarded the Man of the Match. He had over 50 caps, appearing a single World Cup Finals and two European Championship.
Gary McAllister
RW/RB:
Darren Anderton
(England/Tottenham Hotspurs)
From 1990 to 1992, Anderton played for Portsmouth.
From 1992 to 2004, he played for Tottenham Hotspurs. He later played for Birmingham City, Wolverhampton Wanderers and AFC Bournemouth. From 1994 to 2001, he was capped 30 times for England. He played an important part in the Euro 96 England team that reached the semi-finals. At France 1998, he shared and sometimes played with David Beckham on the right wing.
LW:
Ryan Giggs
(Wales/Manchester United)
Giggs was Sir Alex's longest serving player at Manchester United, where he played from 1990 to 2014.
He also holds the club record for competitive appearances.
During his time at United, he won 13 Premier League winner's medals, four FA Cup winner's medals, three League Cup winner's medals and two Champions League winner's medals. He is widely considered one of the greatest British wingers in modern history. He played 64 times for Wales. He led Great Britain at the London Olypmpics in 2012.
Ryan Giggs scored against Belgium in 1993
LW:
John Barnes
(England/Liverpool)
John Barnes was widely considered to be one of the greatest Liverpool players, where he formed one of their greatest team playing alongside Ian Rush, Peter Beardsley, John Aldridge and Ray Houghton.
B
efore joining Liverpool, he played for Watford. At Watford, he also helped them to the Final of the FA Cup in 1984. He was voted PFA Player of the Year in 1988 and FWA Player of the Year in both 1988 and 1990.
John Barnes in 1993
FW/SS:
Peter Beardsley
(England/Liverpool)
Peter Beardsley was one of the few players i history to have played for Liverpool, Everton, Manchester United and Manchester City. His first successes came in the early 1980's while playing for Newcastle United. In 1987, he joined Liverpool as the most expensive player in England's history. Together with John Barnes, they formed one of the best English sides of the later 1980's.
ST: Ian Rush (Wales/Liverpool)
Ian Rush was voted as the third greatest Liverpool player by fans in 2013. He is the Liverpool's all-time leading goalscorer, with 346 goals. He won both the PFA Player of the year and FWA Player of the Year in 1984. he was European Golden Boot winner in the same year. He also had short spells with Chester City, Juventus, Leeds United, Newcastle United, Sheffield United, Wrexham and Sydney Olympic. Rush made 73 appearances for Wales between 1980 and 1996.
ST: Ian Wright (England/Arsenal)
Wright was a legendary striker with Arsenal. Before joining Arsenal, he was a hero with Crystal Palace. At the time of writing, he was their highest goal scorer since the War. In 1991, he joined Arsenal. He spent 7 seasons with them, winning all three domestic trophies and the Cup Winners' Cup in 1994. Despite being a top scorer in the domestic league(he scored over 20 goals every season from 1991 to 1998), he only played 33 times for England and was never selected for any of the major tournaments.
Ian Wright
ST:
Mark Hughes
(Wales/Manchester United)
Mark Hughes was best remembered for his spells with Manchester United.
He won two Premier League title medals, four FA Cups, three League Cups and two European Cup Winners' Cups.
He
was the first player to win the PFA Players' Player of the Year award twice, in 1989 and 1991. He also played for Barcelona and Bayern Munich, as well as the English clubs Chelsea, Southampton, Everton and finally Blackburn Rovers.
ST: Alan Shearer (Blackburn Rovers)
Shearer is the all-time leading top-scorer for the Premiership. In 1992, he joined Blackburn Rovers from Southampton in a record transfer. He won the Premiership for 1994-1995 season. In 1996, he joined his home town club, Newcastle United for a world record transfer fees. He was FWA Player of the Year in 1994, and PFA Player of the Year in 1995 and 1997. For England, he earned 63 caps. In 1996, he led England to the semi-final of Euro 1996 at home, himself winning the Golden boot award.
Alan Shearer against Norway in the World Cup Qualifiers
Players considered
Barry Horne (Wales/Everton), Steve Morrow (Northern Ireland/Arsenal), Andy Sinton (England/Sheffield Wednesday), Stuart Ripley (England/Blackburn Rovers), Dean Saunders (Wales/Aston Villa), Paul Merson (England/Arsenal), Paul Gascoigne (England/Lazio), Les Ferdinand (England/QPR), Paul Parker(England/Manchester Unied), Rob Jones(England/Liverpool), Stuart Ripley (England/Blackburn Rovers), Andy Cole (England/Newcastle)
Squad Explanation
-- The team is dominated with 16 English players. With exception of Peter Beardsley, all English players considered were based upon the numbers of caps earned during the World Cup Qualifiers. Basically, this is England's team with reinforcement from other British players. The non-English selections are Neville Southall (Wales), Ryan Giggs (Wales), Mark Hughes (Wales), Ian Rush (Wales), Gary McAllister (Scotland) and Colin Hendry (Scotland). Peter Beardsley would be considered an reinforcement since he took no part in the World Cup Qualifiers.
-- Most of the players from Northern Ireland were not as well known as their counterparts from the other teams. Steve Morrow was the only player considered. For United Kingdom 1970 team, I took Mike England because he was the only player from Wales. I did not do that for Morrow for this team.
-- Chris Wood was blamed for the 2-0 loss against the USA in the summer of 1993. He was never called up again by England. David Seaman played in the most critical games of the World Cup Qualifiers later that year. Between June 1993 to June 1994, Tim Flowers was the only goalkeeper used by England. He was also the goalkeeper on the PFA Team of the Year. Under Graham Taylor, Nigel Martyn (Crystal Palace) was the only other goalkeeper played. Neville Southall was 35 at the time of the World Cup Finals, but still highly regarded. Scotland's
Andy Goram was the starting goalkeeper for Scotland at Euro 1992, but he suffered a serious injury in 1993. He did not return to action until the Spring of 1994. While Goram was injured, Jimmy Leighton's club career was revitalised with
Hibernian, but between 1991 and 1993, he was not playing much club football.
The United Kingdom probably would take David Seaman, Tim Flowers and Neville Southall.
-- Tony Adams and Gary
Pallister were on the PFA Team of the Year.
Colin Hendry (Scotland) made his Scotland debut at the age of 27 in May, 1993.
Martin Keown and Steve Bould were fighting for a spot at the club level, but Bould was overlooked by England during this period. Bould remained an uncapped player until the summer of 1994. In the end, I took Des Walker for his experience who also started on the England's last match of the WCQers against San Marino.
-- Stuart Pearce was an easy selection for the leftback position. England also used Lee Dixon, Paul Parker and Rob Jones as rightbacks. I took Dixon who was probably the most famous of the lot. He also started the last game of the World Cup Qualifers against San Marino. Leftback Tony Dorigo was used in the early matches of the World Cup Qualifiers. Graeme Le Saux made his debut in early 1994 under new England manager Terry Venables.
-- Ryan Giggs has became a key player for Manchester United by the 1993-1994 season.
John Barnes played regularly in the World Cup Qualifiers, but was dropped after the USA Cup in 1993. He was booed off by the English fans in one of the matches largely because his loyalty to England was questioned. In the 1993-1994, Lee Sharpe was still considered one of the best young players in England. He played more than Barnes during the World Cup Qualifiers. At the club level, Giggs had taken over his left wing position with Manchester United, but Sharpe still played 30 games and had 11 goals that season, which was his career best. Graham Taylor had played both Barnes and Sharpe on the same field, but I won't do that.
In the end, I took John Barnes who had more experience than Lee Sharpe. At the time, I probably would receive a lot of criticism from the fans, the pundits, etc for doing that. At the same time, some fans would want me to reunite Barnes and Peter Beardsley who had regained his form that season.
-- Peter Beardsley joined Newcastle United in the summer of 1993. He helped Andy Cole to become the top scorer of the Preimership in the 1993-1994. Peter Beardsley was on the PFA Team of the Year. However, he was uncapped during the World Cup Qualifiers because he had not fully revitalised his career until afterward, but I would bring him back for his performance in the 1993-1994 season.
-- Graham Taylor also used rightwing Darren Anderton regularly.
-- The midfield consisted of David Batty and Gary McAllister who were from the PFA Team of the Year.
-- In April, 1994. Paul Gascoigne was injured by club mate Alessandro Nest during training in Italy. He would not be available for the World Cup Finals. I have taken injured players on some of my imaginary blog teams to reinforce the team. However, since this team was not about a "Dream Team" that set to conquer the world, I decided not to take him. This blog team was about the survival of the team against all odds. The injury of Gazza would be the one of the odds.
--
Paul Merson's lifestyle was an issue for many managers. He played under Graham Taylor throughout the period, but new manager Terry Venables did not want him. For this imaginary United Kingdom team, I am the manager. I decided not to risk his inclusion to the team.
--
David Platt led England in goal scoring during the World Cup Qualifiers with 7 goals. Ian Wright was in second with 5 goals.
-- Andy Cole was Preimer League Golden Boot winner in the 1993-1994 season. He was not selected into the PFA Team of the Year. He did not make his England debut until 1995. So I went with Ian Rush, Alan Shearer, Ian Wright and Mark Hughes. They were all big names in 1994.
-- Alan Shearer was FWA Player of the Year that season.
Formation
As mentioned, Paul Gascoigne was injured and missed the tournament. Instead, I put the 20 years old Ryan Giggs into the starting lineup. His youthfulness would benefit the team. I still stayed with Southall in goal. Peter Beardsley might start ahead of Gary McAllister.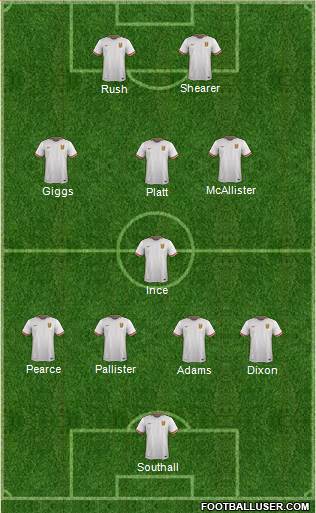 Prediction at the World Cup Finals
It is impossible to make a prediction or assessment of this team in the 1994 World Cup Finals without knowing the teams in their groups. The seedings were based upon the FIFA rankings at the time and results of the previous three World Cup Finals. If I based my United Kingdom team on England. they probably would be a seeded team as England was ranked 8th in November, 1993 and 11th a month later. Furthermore, England were the semifinalist in the previous World Cup Finals. England probably would take Belgium's place as a seeded team, but I am not going to put the United Kingdom in Group F, where Belgium was placed in the World Cup Finals.
This United Kingdom could probably progress to the knockout rounds, given some of the third ranked teams also progressed in 1994. So only eight teams were eliminated in the Group Stage.
Beyond that, I am unsure if the United Kingdom could do much. Brazil the eventual winner had a forward line consisted of Romario and Bebeto. Italy had Roberto Baggio and Pablo Maldini, but Franco Baresi was injured throughout the Finals. I don't think that the UK team could beat Sweden, Bulgaria, Germany and Netherlands. The Americans had beaten England in June, 1993. They were not to be underestimated. Nigeria, Romania and even Ireland could beat this team. Argentina had one of the best teams in 1994 when they still had Diego Maradona. But with Maradona's suspension during the Group Stage, Argentina was hard to predict.