Central Italy
consists of the administrative regions of Lazio, Tuscany, Marche and Umbria. The big clubs located in this area included
AS Roma, Lazio, Fiorentina, Empoli and Livorno.
Please also look at my all-time Italy team here and
my
All-Time World Cup Team Index.
Italian diaspora
Southern Italy,
Central Italy.
Northern Italy(excluding Lombardy),
Lombardy
Italy after 1982,
Italy between 1938 and 1982.
Team
GK: Gianluigi Buffon (Tuscany)
Buffon is considered to be one of the greatest keeper ever. He made his Serie A debut at the age of 17 in 1995 with Parma. He earned his first cap when he was only 19. He had a total of 175 caps.
His biggest achievement must be winning the World Cup in 2006. He has been named the Serie A Goalkeeper of the Year a record eight time.
He became the most expensive goalkeeper of all time following his transfer from Parma to Juventus in 2001.
Gianluigi Buffon
GK: Enrico Albertosi (Tuscany)
He was one of the best keepers in his generations. He played with Fiorentina that won the Cup Winners' Cup in 1961. Then, he moved to Calgary in 1968, where he won a scudetti with Caligari in 1970. He later transferred to AC Milan in 1974, where he won yet another Serie A title and Coppa Italia. For Azzurri, he was a part of Italy's European Championship team in 1968. He went to the both 1966 and 1970 World Cup Finals.
Enrico Albertosi
GK: Angelo Peruzzi (Lazio)
Peruzzzi played for Roma, Hellas Verona, Juventus, Internazionale and Lazio. He had a highly successful spell with Juventus, where he won three Serie A titles, the Coppa Italia, the UEFA Cup and the Champions League.
His cap total was limited to 31, largely because he was playing in the same generation as Buffon. He missed both France 1998 and Euro 2000 through injuries. He was the backup keeper at WC 2006.
RB: Mauro Tassotti (Rome/Lazio)
After making his Serie A debut with Lazio, he went on to play with Milan for 17 years. He won 17 major titles with Milan, including five Serie A championships and three UEFA Champions League tournaments, reaching five finals in total. He was a part of both Arrigo Sacchi's and Fabio Capello's AC Milan. He also went to the WC in 1994, where Italy came second.
RB: Francesco Rocca (Rome/Lazio)
Francesco Rocca played his entire career with AS Roma.
He played 18 games for the Italy national football team from 1974 to 1976. He retired at the age of 26 because of a serious injury. He was nicknamed "Kawasaki"(Japanese motorcycle brand) for his pace and work rate. He is a member of AS Roma's Hall of Fame.
CB: Alessandro Nesta(Rome/Lazio)
Nesta is considered one of the best defender of his generation. He was the Serie A defender of the Year for 4 times. He started his career with Lazio. Later, he played with AC Milan where he won two Champions' league. He also played in MLS. he earned 78 caps. He played on the 2006 WC winning team, but injured in the third game of the tournament.
Alessandro Nesta
During his club career, the central defender played for Lazio (1975–85), Juventus (1985–87) and Roma (1987–89). He also played four times for Italy, and was a member of the 1978 FIFA World Cup squad. He collapsed during a match in 1989 because of a heart attack and was forced to retire at the age of 33.
Bonucci started his career with Inter Milan, but became famous with Bari during the 2009-2010 season. In 2010, he joined Juventus. He was a part of Antonio Conte's great defensive unit at Juventus, playing alongside Giorgio Chiellini and Andrea Barzagli. Capped 75 times. He went to both World Cup in 2010 and 2014.
CB: Andrea Barzagli (Tuscany)
While Andrea Barzagli was a part of Italian national team's player pool since 2004, he was mainly used as a backup for the Azzuri.
Barzagli first made his name with Palermo. Later, he moved to Wolvesburg. In 2011, he joined Antonio Conte's Juventus.

He established himself as one of the best in the world.
LB: Amedeo Carboni(Tuscany)
Carboni played for a number of Italian clubs before joining Roma in 1990. He stayed there for 7 seasons mainly as a starter before he went to Valencia in 1997. With Valencia, his team made it to the Champions' League Finals twice and won the UEFA Cup/League Double in 2003/2004. He represented Italy at Euro 1996, where he earned two of his 18 caps for Italy.
LB: Fabio Grosso (Rome/Lazio)
Fabio Grosso was the hero of Italy's 2006 World Cup winning team. He earned the penalty that beat Australia at the round of 16, scored the winning goal in the semifinal, and then, the final penalty kick in the Final. He started his career in the lower divisions in Italy before making a name with Perugia and Palermo. He later played for Inter Milan.
Fabio Grosso
DM: Marco Tardelli (Tuscany)
He played at the 1978 World Cup Finals in Argentina and the 1980 European Football Championship at home. He was the unsung hero of Italy's 1982 WC winning team. He
was capped 81 times. He also won all the three major European competitions with Juventus. He also played for Pisa, Como, Inter Milan and St.Gallen of Switzerland.
DM: Daniele De Rossi (Rome/Lazio)
At the time of writing, he has played his entire career with Roma. He inherited the captaincy of Roma in 2017 following the retirement of Francesco Totti. Since 2004, he went to every major international tournaments. He had 117 caps before his retirement from the national team in 2017. He was a member of the 2006 World Cup winning team. He was Italian Footballer of the Year in 2009.
Attilio Ferraris played 10 seasons (254 games, 2 goals) in the Serie A, for A.S. Roma, S.S. Lazio and A.S. Bari. Ferraris had 28 caps for Italy. He won the bronze medal at the 1928 Olympics, and was part of the World Cup winning team of 1934, being named to the tournament's All-Star Team for his performances.
RW: Bruno Conti (Rome/Lazio)
Conti was the greatest winger in Italy's history. He won the World Cup in 1982 and also took part at the 1986 World Cup Finals. Except with two loan spells with Genoa, he played his entire career with AS Roma. The season after the World Cup Finals in 1982, he helped Roma to win the league title.
He also led them to the 1984 European Cup Final but were defeated on penalties by Liverpool.
AM/LM: Francesco Totti (Rome/Lazio)
Totti was the long serving captain of Roma and perhaps the greatest ever player for the club. He brought the scudetti back to Roma in 2001 after a 20 year drought. He
was named the Italian Footballer of the Year for 2000 and 2001. He won the European Golden Boot award in 2006-2007. A 2006 World Cup winner and Euro 2000 finalist with Italy, Totti was selected in the All-Star team for both tournaments; he also represented his country at the 2002 World Cup and Euro 2004.
Francesco Totti
AM: Giuseppe Giannini (Rome/Lazio)
Nicknamed "Il Principe" (The Prince), he was a symbol of Roma before the emerge of FrancescoTotti. He played for AS Roma between 1982 and 1996. After AS Roma, he played in Austria for Sturm Graz, and for Napoli and Lecce in Italy. Giannini was capped 47 times for Italy between 1986 and 1991, scoring 6 goals. He represented Italy at both Euro 1988 and the 1990 World Cup.
FW: Roberto Mancini (Marche)
He started his career with Bologna, but probably best remembered for his years with Sampdoria. He formed a great partnership with Gianluca Vialli there, winning the Cup Winners' Cup in 1990 and the scudetti in 1991. He only played 36 times for Italy because of fierce competition from
other offensive midfielders.
AM: Giancarlo Antognoni (Umbria)
He was Fiorentina
's greatest ever player

. He was a key player for Italy's WC winning team in 1982, but he missed the Final because of an injury.
He was capped 73 times for
the

Azzurri

. In 1972, he joined Fiorentina. Because of his loyalty with his club, he never won anything at the club level. He holds the record for the most appearances in Serie A for Fiorentina, with 341 appearances.
FW: Paolo Rossi (Tuscany)
Rossi was the hero of Italy's WC winning team in 1982, notably for scoring a hattrick against Brazil in Spain, and went on to win the Golden boot. He was also the European player of the Year in 1982 because of his performance at the WC Finals. He was a part of the great Juventus team of the 1980's, winning the 1985 European Cup as Juventus' second top scorer. He also went to the 1978 World Cup Finals.
Paolo Rossi
FW: Alessandro Altobelli (Rome/Lazio)
He played for Latina and Brescia before joining Inter Milan in 1977, where he became a star at the club.
He also spent a season with Juventus in the 1988-1989 season.

For the national team, he had 61 caps.
He was best-remembered for scoring a goal against West Germany at the WC Final in 1982. He also played in 1986.
ST:
Francesco Graziani (Rome/Lazio)
Francesco Graziani earned 64 caps. He played every game in 1982 as Italy won their first World Cup since 1938. He started his club career with Arezzo. He was an all-time great at Torino, winning the league in 1976. He was the top scorer in Serie for 1976-1977 season. He also played for Fiorentina, Roma and Udinese.
ST:
Giorgio Chinaglia
(Tuscany)
Born in Italy, he grew up in Wales, where he started his career with Swansea. Lazio voted him as their greatest ever player. In 1973-1974, he led the league in scoring as Lazio won the scudetto. Later,
he played for NY Cosmos with Pele and Franz Beckenbauer. He was one of the few players who played in NASL during their prime. He played 14 times for Azzurii between 1972 and 1975.
Honorable mention
Bruno Giordano (Rome/Lazio),
Luigi Di Biagio (Rome/Lazio), RB: Ardico Magnini (Tuscany)

, Angelo Di Livio(Rome/Lazio), CM: Alberigo Evani,

Fabrizio Ravanelli

(Umbria)

,
Paulo Di Canio (Rome/Lazio).
Squad Explanation
This team is not the best teams out of all of my all-time teams from Italy, but it included two players who contributed enormously for Italy winning the World Cup. Paulo Rossi and




Fabio Grosso were World cup heros.

Giorgio Chinaglia (Tuscany) received a lot name recogination because he played with NY Cosmos and Lazio during their glorious days. Lazio also voted him as their greatest player. And since this an all-time team for the region, I gave him a lot of credits for his career with Lazio.

Paulo Di Canio (Rome/Lazio) never got his chance with Italy. I also dropped him because there are too many forwards/attack midfielders on this team.
Starting lineup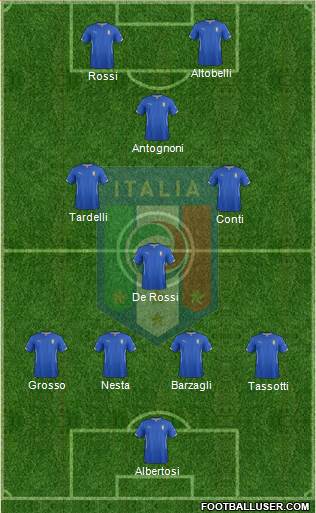 The offense was almost identical to the 1982 team with Rossi, Altobelli, Conti and Antognoni. I started Altobelli over

Graziani because he emerged as a star of the Azzurri in the mid-1980's.

Grosso was rewarded a starting position for his World Cup contributions.