Christian Karembeau and Lillian Thuram
Please also see my
All-Time World Cup Team Index.
This is my all-time 23 member team for French players born in the Overseas Departments of France or French colonies.
All the players are selected based on place of birth.
I have also created an all-time team for France.
French Black Players
French Algerian
French Players Capped by Other National Teams
France at USA 1994
Team
GK:
Steve Mandanda (DR Congo)
Steve Mandanda made his league début for Le Havre in August 2005. He joined Marseille in 2008. He had played over 300 games for them since 2008. He spent a season with Crytal Palace. For the natinal team, he was mainly a backup keeper. At the time of writing, he has 26 caps. He served as the third keeper at the WC Finals in 2010 and 2014. He has three brothers who are also professional goalkeepers.
Steve Mandanda
GK:
Jean-Paul Bertrand-Demanes (Morocco)
Jean-Paul Bertrand-Demanes spent his entire career at Nantes. He was the original starting keeper at the World Cup Finals in 1978. He played the first two matches, but he suffered an injury in the third match that ended his tournament. He never played for France after that injury. He had 11 caps between 1973 and 1978.
GK: Georges Lamia (Algeria)
Born in French Algeria, Georges Lamia played for USM Annaba in Algeria before heading to play in France for Nice, La Havre and Stade Rennais. His main club was Nice in Southern France. For the national team, he had 7 caps. He represented France at the 1960 European Championship, where France took fourth place.
RB: Jocelyn Angloma
(
Guadeloupe)
Jocelyn Angloma was a member of the great Marseille team of the early 1990's. He won the European Cup in 1993. He later played for Valencia and reached the Champions' League Final twice. He was a member of the French team at Euro 1992 and 1996. In 2006, Angloma came out of retirement to play for his native région, Guadeloupe, and help them qualify for the 2007 Caribbean Nations Cup.
CB/RB:
Gérard Janvion (Martinique)
Gerard Janvion
started his career in Martinique with the local side CS Case-Pilote. He
played for Saint-Etienne between 1972 and 1983, winning 4 la Ligue titles. He played with Michel Platini over there in the 1970's. The team was considered one of the best French club sides in history. He later played for PSG before retiring from football. He capped 40 times between 1975 and 1982. He went to the World Cup Finals in 1978 and 1982.
Gerard Janvion
CB:
Samuel Umtiti
(Cameroon)
Samuel Umtiti began his professional career with Lyon in 2012, winning the Coupe de France and Trophée des Champions that year. He transferred to Barcelona in 2016. Umtiti, who was uncapped at senior level, was selected by France national team manager Didier Deschamps to be part of his Euro 2016 squad following an injury to fellow centre-back Jérémy Mathieu. He was a part of the French team that won the World Cup in 2018.
CB/DM:
Raoul Diagne
(French Guiana)
Born in French Guiana of Senegalese descent, Raoul Diagne was the first Black player to be capped by France. He earned 18 caps between 1931 and 1940. He is the son of politician Blaise Diagne. He was the first black African elected to the French Chamber of Deputies, and the first to hold a position in the French government.
CB: Marius Tresor
(
Guadeloupe)
Marius Tresor was one of France's greatest defenders. He was n
amed by Pelé as one of the top 125 greatest living footballers. He had 65 caps. He was the French captain before Michele Platini's arrival.
He went to the World Cup Finals in 1978 and 1982. In 1982, he scored one of the extra time goal against West Germany at the semifinal. For his club career, he also played for Olympique de Marseille and Girondins de Bordeaux.
RB/CB: Lilian Thuram
(
Guadeloupe)
Lilian Thuram is

France's most capped player. He was known
for his strength, pace and stamina.
He played at the top flight in France, Italy and Spain for over 15 seasons, including ten in the Serie A with both Parma and Juventus. With France, Thuram won the 1998 World Cup and Euro 2000, and was in the runner-up squad for the 2006 World Cup in Germany. He scored two goals vs Croatia in the semifinal of the World Cup in 1998.
Thuram vs Croatia, WC 1998
CB:
Basile Boli
(Ivory Coast)
For club football, Basile Boli played for Auxerre, Marseille, Rangers (Scotland), Monaco and Urawa Reds (Japan). He was a member of Bernard Tapie's Marseille that won the 1993 European Cup, the first ever for a French club. He scored the only goal at the Final against AC Milan. He left the club in 1994. For France, he won 45 caps. He went to the European Championship of 1992 hosted by Sweden.
CB:
Jean-Alain Boumsong (Cameroon)
Jean-Alain Boumsong was born in Cameroon. He had played for many clubs in
Europe with Auxerre, Juventus, Newcastle United, Rangers, Lyons, etc among them. He was capped 27 times. He went to three major tournaments: European Championship 2004 and 2008, and the World Cup Finals of 2006.
LB:
Patrice Evra (Senegal)
Patrice Evra began his career with Nice and made his name with Monaco, but it was in Manchester United where he became one of the best left backs in the world. He played for the Red Devils from 2006 to 2014. At the time of writing, he earned 66 caps and was a key player for France since 2008. He was the captain of the national team. At South Africa 2010, he led a player revolt
against Raymond Domenech.
DM:
Christian Karembeu
(New Caledonia/France)
Born in New Caledonia, Christian Karembeu moved to France as a 17 years old.
He played for Nantes, Sampdoria, Real Madrid, Middlesbrough, Olympiakos, Servette Genève and Bastia. With Real Madrid, he won two UEFA Champions League in 1998 and 2000. He had 53 caps for France during the Golden Generation in the 1990's. He won the World Cup with France in 1998, and the European Chamopionship, two years later. He was Oceania Player of the Year in 1995 and 1998.
Christian Karembeu
DM:
Alexandre Villaplane
(Algeria)
Villaplane was the
first ever player of Northern African origin to represent France. He captained France's first World Cup at the 1930 WC Finals in Uruguay. He played for FC Sète, Nimes Olympique , Racing Club de France, FC Antibes and OGC Nice. During the World War Two, he helped the Nazi Germans' occupation of France and was a SS officer. He was executed as a Nazi collaborator at the end of the War.
CM/DM:

Abderrahman Mahjoub (Morocco)
Born in Morocco, he represented France at the World Cup Finals in 1954. He captained Morocco at the 1962 World Cup. Known as Prince du Parc (Prince of the Park) in his playing days for his dominant control of the midfield, was one of the best Arab players of his generation. He was a long time member of Racing Club of Paris.
CM: Jean Tigana
(French Sudan)
Tigana played 52 times for France. He was a member of the great French side of the 1980's. He won the Euro 1984 playing in the famous "Magic Square". He also went to the 1982 and 1986 Wolrd Cup Finals.
He played with Bordeaux for eight years, winning three league titles and three French Cups. He also spent time with Toulon, Lyon and Marseille.
Jean Tigana
CM:
Patrick Vieira (Senegal)
Vieira was an all-time great with Arsenal. He won three Premier League titles and four FA Cups. In England. he was famous for his rivalry with Roy Keane. He spent a season at Juventus, helping the team to the Serie A championship. Vieira also played for Inter Milan and then, Manchester City for two seasons. With "Les Bleus", he won the WC in 1998 and European Championship in 2000. He earned 107 caps.
LW:
Laurent Robert (Reunion)
Laurent Robert started his career at Montpellier, before signing for Paris Saint-Germain in 1999. He was best remembered for his stint with Newcastle United in the Preimership between 2001 and 2006. He also played in Portugal, Spain, Greece and the MLS. He earned 9 caps for the French national team between 1999 and 2001.
LW: Florent Malouda
(French Guiana)
Malouda played for
Châteauroux and Guingamp before making a name with Lyon and Chelsea, winning four consecutive Ligue 1 titles with the former and the Champions League in 2012 with the latter.
Malouda represented Les Bleus on 80 times, including in two FIFA World Cups and two European Championships. He was part of the French team which reached the 2006 World Cup final.
DM:
Claude Makelele
(Zaire)
Michelle played for Nantes, Marseille and Celta Vigo before making a big move to Real Madrid in 2000. Over there, he quickly established as one of the best defensive midfielder in the world. He won every single club title
available. In 2003, he moved to Roman Abramovich's Chelsea. he earned 71 caps for France. He helped France to reach the Final of Germany 2006.
AM: Larbi Benbarek
(Morocco)
Larbi Benbarek was born and raised in Morocco in the period when the country was under the French rule. He was the first Black player to reach stardom in Europe, earning the nick name "Black Pearl". He made his name with Stade Francasis Paris. In 1948, he moved to Atletico Madrid, where he reached the height of his career and won two La Liga title. He is considered one of the greatest ever French player. He was capped 19 times between 1938 and 1954.
Larbi Benbarek
FW:
Abdelaziz Ben Tifour (Algeria)
Abdelaziz Ben Tifour played for France at the 1954 World Cup Finals. He had a notable career in the French league, especially with Nice. He was one of the founding member of FLN Algeria national team. He played for Nice. He moved to Troyes AC after six seasons with Nice in 1954 and then signed for AS Monaco in 1956.
ST: Rachid Mekhloufi
(Algeria)
Rachid Mekhloufi is the all-time leading scorer for Saint-Etienne. He won 4 Ligue 1 titles with them in the 1960's. Liked many French-Algerian of his generation, he was capped by France. He later played for FLN Algeria national team and then, Algeria after it gained independence. He was the co-manager of the Algeria national football team in the 1982 World Cup,
ST:
Just Fontaine
(Morocco)
Just Fontaine was born in French Morocco. He is the record holder for most goals scored in a single edition of the World Cup. He scored 13 goals in 6 matches in the 1958 World Cup Finals in Sweden. He won 21 caps scoring 30 goals. He started with RSM Casablanca and Nice before starring for
Stade de Reims of the 1950's. With Stade de Reims, he played with Raymond Kopa and was considered one of the greatest ever French club side.
Just Fontaine
Honorable Mention
Serge Chiesa (Morocco),
Ibrahim Ba (Senegal),
Martin Djetou (Ivory Coast), Christian Lopez (Algeria)
Squad Explanation
--Zinedine Zidane, Ali Ahamada and Bernard Lama were born in France.
Lama grew up in French Guiana, which made him a tricky situation. In end, I stayed with my criterion. He was born in France.
-- Serge Chisea's international career was limited by a disagreement with the French FA. He never played for France after the age of 23. He was rated as good as Platini, but he was largely a forgotten man in football. I only put him on honorable mention.
-- Larbi Benbarek is probably the greatest French attack midfielder after Michel Platini, Raymond Kopa and Zinedine Zidane. He missed out on my All-Time French selection because I already have the three playmakers I just mentioned.
-- Luis Fernandez was born in Spain and Julien Darui was born in Luxembourg. They are not from the Overseas Departments or French colonies. do not belong to this team.
-- Marcel Desailly was born in Ghana, and Ghana was not a former French colony.
--
Ibrahim Ba never lived up to expectation. He missed out on this team.
-- Alexandre Villarplane is a controversial selection due to his war crime, I admitted. However, his selection was based on his football career. Raoul Diagne, however, was honoured for being the first Black player to play for France. His father Blaise Diagne fought for the rights of French Africans living in France. His contributions probably led to more French Africans playing for France.
-- After the World Cup in 2018, I dropped Christian Lopez and added Samuel Umtiti who was born in Cameroon to the team.
Starting lineup
4-1-2-1-2
--Jean-Paul Bertrand-Demane started because of his experience at the WC Finals.
-- Thuram, Tresor and Evra are automatic starters. The last defender on the starting lineup is determined by where I wanted to play Thuram. I chose Boli over rightback Angloma..
-- Both Karembeu and Makelele played for Real Madrid. I went for Makelele.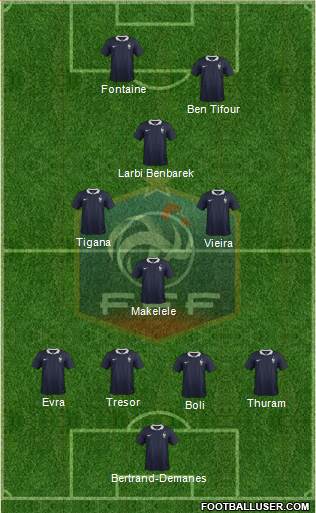 s