England at Mexico 1970
Please also see my
All-Time World Cup Team Index.
England
United Kingdom
Greater London
North East England,
NorthWest England.
Black English players
Sweden World Cup1950
Argentina World Cup 1958
Scotland World Cup 1970
United Kingdom World Cup 1970
England World Cup 1974
United Kingdom World Cup1982
Yugoslavia World Cup 1994
France World Cup 1994
Germany World Cup 2002
Holland World Cup 2002
USA World Cup 2010
I do believe United kingdom could have won the WC in 1970. England was eliminated in the quarterfinal, but their position did not justify their performance. They were not so far behind the top teams at the WC Finals in 1970. They narrowly lost to the eventual winner Brazil and perhaps, were the only team, that put up a decent fight against them. Second place Italy did not beat England for the first time until 1973. So the English still owned Italy at that point. The game between England and semifinalist West Germany were very close. England could have beaten West Germany.
The United Kingdom in 1970 would have been reinforced with George Best who was the greatest footballer ever to come from the UK. Despite not qualifying for the World Cup Finals, Scotland had a talented squad. Celtic won the European Cup in 1967 and Rangers the European Cup Winners' Cup in 1972.
Bobby Moore, Bobby Charlton, Gordon Banks and George Best are four of the greatest footballers ever emerged from the United Kingdom. They were at their prime in 1970.
This would be the 22-member team I would bring to Mexico 1970. * Only 22 member team in 1970.
Team
GK: Gordon Banks (England/Stoke City)
Gordon Banks was named FWA Footballer of the Year in 1972, and was named FIFA Goalkeeper of the Year on six occasions. He won the World Cup in 1966. He also made one of the game's great saves to prevent a Pelé goal in the 1970 World Cup. Along with Lev Yashin, he is considered the greatest keepers of his generation. The prime of his club career was spent with Leicester and Stoke City.
GK: Pat Jennings (N.Ireland/Tottenham Hotspurs)
Pat Jennings is considered among the greatest goalkeeper of all-time. The prime of his career was spent with both Tottenham Hotspurs and Arsenal. In 1973 the Football Writers' Association named him as its footballer of the year. Three years later he won PFA's version of the award – he was the first goalkeeper to receive this accolade, and to this date remains only one of two, along with Peter Shilton. He earned 119 caps for Northern Ireland and went to two World Cup Finals.
Pat Jennings
GK: Peter Bonetti (England/Chelsea)
Nicknamed as "the Cat", Bonetti was a legend at Chelsea. His finest moment came in the Final of the FA Cup in 1970 where his heroic play helped Chelsea to win the FA Cup. He was the FWA Player of the Year runner-up that year. However, he only earned 7 caps for England. his career was limited by playing with Gordon Banks at the same time. He was Banks' backup in the World Cup 1966.
RB: Tommy Wright (England/Everton/Leeds United)
Wright spent his entire career with Everton. He played in the winning team in the 1966 FA Cup Final. He also won the 1969/70 Football League Championship. Capped 12 times. He made his debut in the 1968 European Championship. He also participated at the 1970 World Cup Finals in Mexico. He was named as an inaugural member of Gwladys Street's Hall of Fame in 1996, and as an "Everton Giant" in 2016.
RB: Keith Newton (England/Everton)
Newton started his career with Blackburn Rovers and first played a League game in the 1960-61 season. Newton went on to play over 300 games for the club. He later played for Everton and Burnley. For England, he was capped 27 times. He played in the 1970 World Cup Finals in Mexico. He gained the distinction of becoming the first England player to be substituted at a World Cup
CB: Bobby Moore (England/West Ham)
Bobby Moore was the captain of the 1966 World Cup winning team. He was regarded one of the greatest defenders of all time. He won a total of 108 caps for the England team, which at the time of his international retirement in 1973 was a national record.For his club career, he played mainl

y for West Ham, but he also played for Fulham and had a stint in the NASL. He

won a
UEFA Cup Winners' Cup with West Ham.
Bobby Moore
CB:
Billy McNeill (Scotland/Celtic)
As
t
he captain of "Lisbon Lions, Billy McNeill
was the first British footballer to hold aloft the European Cup, when Celtic won the Cup in 1967. H
e also won nine Scottish League championships, seven Scottish Cups, and six Scottish League Cups.
He was voted as Cetlic
s' greatest captain. He played his entire career with Celtic. He was capped 29 times for Scotland between 1961 and 1972.
CB/DM: Norman Hunter (England/Leeds United)
Hunter was known as one of the hardest tackler ever came out of English football. His nickname was "Bites Your Leg" Hunter. He was one of Don Revie's key players at Leeds United, forming a strong partnership with Jack Charlton. He was PFA Player of the Year in 1974. He won the WC in 1966 as an unused player. He went to Mexico 1970, but only made a single appearance.
CB
Mike England (Wales/Tottenham Hotspurs)
At Spurs, Mike England won the inaugural 1972 UEFA Cup Final and was runner up in the same competition 2 years later; his goal in the first leg of the 1974 final unable to win the cup a second time for Spurs. He also played for Blackburn Rovers, Seattle Sounders (USA) and Cardiff City. He was capped 44 times and was also the youngest Welsh captain at one point. He also played as a center forward.
LB: Terry Cooper (England/Leeds United)
Terry Cooper was Don Revie's trusted left back at Leeds United. He played for Leeds from 1962 and 1975. He was known for his partnership with Eddie Grey on the left flank. He left to join Middlesbrough, which was then managed by his teammate Jack Charlton. He had 20 caps for England between 1969 and 1974.
LB: Tommy G
e
mmell (Scotland/Celtic)
Tommy Gemmell was a legendary player with Celtic. He
scored the
opening
goal for the Lisbon Lions in 1967 as Celtic became the first British club to win the trophy. He scored again at the European Cup Final in 1970
in a defeat to Feyenoord
. He also had
a successful career with Nottingham Forest. He also played for Miami Toros and Dundee. Capped 18 times for Scotland.
CM: Alan Ball (England/Everton)
Ball was the youngest member of the WC winning team in 1966. He started his career with Blackpool. He also played with Everton, Arsenal, Southampton and various clubs in North America and Hong Kong. He played 72 times for England and was a key player at the WC finals in 1966 and 1970. He missed the ill-fated match vs Poland in 1973 due a suspension.
CM: Billy Bremner (Scotland/Leeds United)
Bremner was Leeds United's greatest ever player. He was their captain when they dominated English football. He was also named as the FWA Footballer of the Year in 1970. He was known for his rough play. He
is a member of both the English Football Hall of Fame and Scottish Football Hall of Fame.
He spent 1976 to 1978 at Hull City, before being appointed player-manager at Doncaster Rovers in November 1978. He was capped 50 times. He went to the WC finals in 1974.
Billy Bremner
CM: Martin Peters (England/Tottenham Hotspurs)
Martin Peters was an all-round midfielder who played for West Ham United, Tottenham Hotspur, Norwich City and Sheffield United. He was briefly a player/coach for
Sheffield United.
He earned 67 caps for England between 1966 and 1974, and was a member of the 1966 World Cup winning team.
CM:
Colin Bell
(England/Manchester City)
Bell is considered to be Manchester City's greatest ever player. He won the league in 1967-1968, FA Cup in 1969 and the UEFA Cup Winners' Cup in 1970. While Bell is considered to be one of England's greatest midfielder, he was unable to showcase his talents in the world stage. He was remembered as the substitute for Bobby Charlton at the WC Finals in 1970 against West Germany. In 1973, he was a part of the ill-fated national team that failed to qualify for West Germany 1974.
LW/RW:
George Best
(N.Ireland/Manchester United)
George Best was considered to be one of the greatest players ever played the game. He was voted #19 as the greatest European player by the UEFA Jublilee Poll. He was known for his "pop star" lifestyle. He was one of the "United's Trinity" that helped Manchester United to their first (and also first ever for an English club) European Cup in 1968. He won the PWA PLayer of the Year award and the Ballon d'Or that year.
George Best
AM: Bobby Charlton (England/Manchester United)
Sir Bobby was considered one of the greatest midfielders of all-time. He was capped 106 times by England and led England to World Cup victory in 1966. He is also England's all-time leading scorer and all-time cap leader at the time of his retirement. He was selected for four World Cups (1958, 1962, 1966 and 1970). For club career, he almost played his entire career with Manchester United. He was the hero of Manchester United's the first ever European Cup trophy in 1968. He won the Ballon D'Or in 1966.
Bobby Charlton
RW: Jimmy Johnstone (Scotland/Celtic)
Johnstone played over 500 games for Celtic. In 2002, he was voted as the greatest Cetlic players by the fans. He played over 500 games for them. He was one of the Lisbon Lions. He later played for the San Jose Earthquakes, Sheffield United, Dundee, Shelbourne and Elgin City. He was capped 23 times. He went to the WC Finals in 1974, but did not play.
FW: Denis Law (Scotland/Manchester United)
Law spent 11 years at Manchester United, where he scored 237 goals in 404 appearances. His goals tally places him third in the club's history, behind Bobby Charlton and Wayne Rooney. He partnered George Best and Bobby Charlton at Manchester United, which was considered to be most popular forward line in British history. He was capped 55 times. He managed to play in the 1974 WC Finals.
Denis Law
ST: Francis Lee (England/Manchester City)
Lee played for Bolton Wanderers, Manchester City, Derby County and England. A fast forward, he won League Championship medals with Manchester City and Derby, and scored more than 200 goals in his career. In 2010, he was inducted into the English Football Hall of Fame.
He holds the English record for the greatest number of penalties scored in a season, a feat which earned him the nickname Lee Won. Capped 27 times.
ST: Peter Osgood (England/Chelsea)
Osgood was a legend with Chelsea. He helped them to win the Cup Winners' Cup in 1970. Despite his successes with Chelsea, he only earned 4 caps. Sir Ramsey is rumoured to dislike him for his playboy lifestyle. He was a member of the 1970 World Cup squad, making two appearances against Czechoslovakia and Romania as a substitute. Near the end of his career, he played for Southampton, Norwich, Philadelphia Fury and a return to Chelsea.
ST: Sir Geoff Hurst (England/West Ham)
Sir Geoff Hurst was best known for scoring a hat trick at the 1966 World Cup Final against West Germany. He also played in following World Cup Finals in Mexico. He remains the only man to score a hat-trick in a World Cup final. He played 490 times in total for England. His club career was spent mainly with West Ham and Stoke City. He also had a stint in NASL with Seattle Sounders in 1976.
Sir Geoff Hurst
Honorable Mention
LB: Eddie McCreadie(Scotland), CB Brian Labone (England),
CM: Bobby Murdoch(Scotland), LB/CB: John Greig(Scotland)
Squad Explanation
-- Many experts considered England had a better team than their one in 1966. In the World Cup Finals, Brazil only managed to beat them 1-0. Gordan Banks, Bobby Moore and Bobby Charlton were at their prime. They will be reinforced by George Best, who was considered among their greatest ever players from the United Kingdom. Billy Bremner was the FWA Player of the Year in 1970.
-- The core of the team is still the England 1970 team. Eight non-English players were added. Pat Jennings, Billy Bremner, George Best, Denis Law, Jimmy Johnstone, Mike England, Tommy Gemmell and Billy McNeill were added to the team. Only three of them did not play in the English league. They were Jimmy Johnstone, Tommy Gemmell and Billy McNeill who played with Celtic and were all members of Lisbon Lions.
-- Mike England was selected because he was the only player from Wales who deserved a place on the squad. I believe in spreading the team around. Yes, it is politics.
-- Billy Bremner, Terry Cooper and Norman Hunter were teammates at Leeds United.
Paul Reaney missed the actual World Cup 1970 due to an injury. Keith Newton took his place.
--
In 1970, Pat Rice of Northern Ireland was not yet a starter at Arsenal. Sandy Jardine had not played for Scotland. So I took Tommy
Wright who was the starting rightback for England in the 1970
.

They would have made the UK team a year or two later, but not in the 1970.
-- John Toshack was relatively unknown in 1970.
-- John Greig was a big star in Scotland, but I went with Gemmell and Cooper.
-- Denis Law was injured for the 1969-1970 season. Manchester United tried to sell him that season, but no one wanted him. Despite all of this, I still brought him to Mexico because he was still one part of the "United Trinity".
-- I also did one for
Scotland 1970
who did not qualified for the Finals. They were eliminated by West Germany
.
Starting lineup
GK: Banks would still start over Jennings, I think.
Defense: England started with Wright, Moore, Labone and Cooper. I do not know the fitness level of Greig, Cooper or Gemmell on the summer of 1970, but based on my knowledge of the players around the late 1960's and early 1970's. I would have this back 4: Wright, McNeill, Moore and Gemmell for Team UK.
Midfield: England started with Ball, Peters and Mullery on the midfield in Mexico. I drop three of them. Sir Ramsey used a wingerless formation at both 1966 and 1970, but what would he do if he had Best and Johnston at his disposal? Billy Bremner was the FWA Player of the Year in 1970. I would then put Charlton to the midfield, where he played for Manchester United.
FW: England started Lee and Hurst in Mexico. Denis Law was injured the season before and was in serious decline. So I would not be starting him.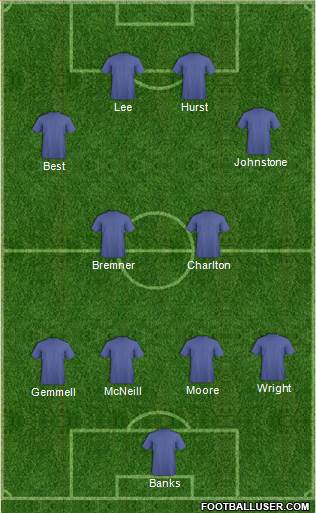 Please also see my
All-Time World Cup Team Index.