Triple Crown in 1999
Please also see my
All-Time World Cup Team Index.
Manchester United,
Liverpool, Arsenal,
Chelsea, Tottenham, Manchester City, Everton,
Aston Villa, Newcastle United, Nottingham Forest, Ipswich
Leeds United, Leicester City, West Ham
Manchester United All-Time Team Under Sir Matt Busby
Manchester United Greatest All-Time Team under Sir Alex.
Manchester United Greatest All-Time Team under Sir Busby
Manchester United All-Time team for British isles (excluding England)
This is my selection of a 25 member all-time team for the club. The number 25 was chosen because it is the official squad size for the Champions' League.
Even before the arrival Sir Alex Ferguson in 1986, Manchester United was the most popular club in England, despite not being the most successful side. The Busby Babe created a lot of excitement for English football and then, the Munich air disaster turned the Red Devils into a team that everyone with a heart to follow. By the late 1960's, the Trinity of Bobby Charlton, Denis Law and George Best represented three parts of the United Kingdom. They appealed to the fans from Scotland, Northern Ireland and England. In 1968, Manchester United became the first English side to win the European Cup.
After the formation of the Premiership, they became the most successful club in English domestic football overtaking Liverpool for winning the most number of league titles

.
2008 Champions' League
The Team
GK: Peter Schmeichel (Denmark)
Peter Schmeichel
was regarded as one of the greatest keeper of all-time. He was voted the "World's Best Goalkeeper" in 1992 and 1993. He had a successful career at Manchester United, whom he captained to the 1999 Champions League to complete the Treble. He is also the most capped player for the Denmark national team, with 129 games between 1987 and 2001. In addition to Euro 92, he played for his country at the 1998 World Cup and three European Championship tournaments.
Schmeichel
GK: Edwin Van Der Sar (Netherlands)
Van Der Sar is the most capped player in Dutch history with 130 caps. He went to 1994, 1998 and 2006 World Cup and Euro 1996, 2000 and 2004. He was best remembered for being the Ajax keeper in 1995 that won the Champions' League and then, later for Manchester United for 6 seasons. He won the Champions' League in 2007-2008. In between, he also played with Fulham and Juventus.
GK: Alex Stepney (England)
Alex Stepney played with Millwall before joining Chelsea. He only played one game and was sold to Manchester United in 1966 to replace Harry Greg who was injured during the Munich Disaster. Stepney helped the Red Devils to win the 1968 European Cup. He played with them until 1978 when he left for the NASL. His international career was limited to a single cap, but he traveled to the 1970 WC Finals as a backup.
RB/LB: John Carey (Ireland/N.Ireland)
He was also a dual internationalist, playing for and captaining both Ireland teams – the FAI XI and the IFA XI. In 1949, he was voted the FWA Footballer of the Year and in the same year captained the FAI XI that defeated England, becoming the first non-UK team to beat England at home. As a player Carey spent most of his career at Manchester United, where he was team captain from 1946 until he retired as a player in 1953.
RB: Gary Neville (England)
Along with his brother Philip, David Beckham, Paul Scoles, Ryan Giggs, and Nicky Butt, Gary Neville captained the Manchester United academy team that won the FA Youth Cup in 1991. They all became fixtures for the senior team throughout the 1990's. Gary Neville remained the team until 2011 and was the second, longest serving player. For England, he was the most capped rightback in history.
CB: Bill Foulkes (England)
Bill Foulkes was a one club man. played for Manchester United in the Busby Babes teams of the 1950s, and also in the 1960s. His favoured position was centre-half. For Manchester United, he played 688 games which places him at number 4 on the all-time list of appearances. He was a part of the 1968 European Cup winning team. Capped once for England.
CB:
Rio Ferdinand (England)
Rio Ferdinand became the youngest defender to play for
the Three Lions

at the time in 1997.
He played 81 times for England between 1997 and 2011, and was a member of three World Cup squads. At one point, he was the most expensive British footballer and also broke the world's record transfer fees for a defender twice. He won the Champions' League with Manchester United in 2008. He also played for Leeds United and West Ham.
Ferdinand and Vidic
CB:
Nemanja Vidic (Serbia)
Nemanja Vidic spent 9 seasons as the starting center-back at Manchester United from 2006 and 2014, where he won every major trophy and established himself as one of the best center-backs of his generation. He also played for Inter Milan, Red Star Belgrade and Spartak Moscow. He played 56 times for Serbia, He went to the World Cup Finals in 2006 and 2010.
CB: Martin Buchan (Scotland)
From 1965 to 1972, he played in Aberdeen, where he won the Scotish FA Cup. He joined Manchester United from Aberdeen in 1972. He became the captain of the team after Bobby Charlton retired. Buchan helped United win the 1977 FA Cup Final against Liverpool, which they won 2–1. This meant that Buchan became the only player to captain both Scottish and English FA Cup-winning sides. He represented Scotland at the 1974 and 1978 WC Finals.
LB: Roger Byrne
(

England

)
Roger Byrne was the captain of the Busby Babes from the 1955–56 season onwards. With Manchester United, he won the league title in 1952, 1956 and 1957. He earned 33 caps with England while playing in every England's fixtures in that period, a record for England. This remains a record. Unfortunately, he died at the age of 28 in the Munich Air Disaster.
LB/RB: Denis Irwin
(Ireland)
Alex Ferguson considered him his greatest ever signing. He played over 200 games for Manchester United, winning the Champions' League in 1999 and 7 Premiership titles.
Irwin was capped by the Republic of Ireland national side 56 times, scoring four goals and featuring in the side that reached the second round (last 16) at the 1994 FIFA World Cup. He is the joint most successful Irish footballer in history, having won 19 major trophies in his career.
CM:
Duncan Edwards
(England)
Duncan Edwards was one of the Busby Babes of Manchester United. He made his professional debut at the age of 16 in 1953. He was the youngest player to play in the Football League First Division. Tragically, he died in 1958 during the Munich Air Disaster at the age of 21. Many people considered him to be England's greatest ever player. He was capped 18 times between 1955 and 1957, scoring 5 goals.
Duncan Edwards who died young
CM/DM: Roy Keane (Ireland)
Roy Keane was the captain of Manchester United from 1997 to 2005, where he won one Champions' League, 7 Preimer League titles and 4 FA Cups. He was the PWA Player of the Year in 2000. He had 67 caps. He played for Ireland at the 1994 World Cup Finals in the USA, but was sent home 4 years later before the start of the World Cup Finals in 2002. He later played for Celtic in Scotland after leaving Manchester United.
CM: Bryan Robson (England)
Bryan Robson was at one point the most expensive British player when he joined Manchester United from West Bromwich Albion in 1981. He is considered to be one of England's best ever box-to-box midfielders. He earned 90 caps for England.
He went to three World Cup Finals, but he only played a major role in 1982.
He was injured in both World Cup Finals in 1986 and 1990. He spent 13 years with Manchester United, winning theCup Winners' Cup for the season 1990–91.
Bryan Robson
RW: David Beckham (England)
Beckham is the greatest ever icon to play the game. He started his career with Manchester United where he was a part of the famous team that won the 1992 FA Youth Cup. For the senior side, he won 6 Premiership titles and the 1999 Champions' League. In 2003, he joined Real Madrid for the well-publicized "Galacticos" signing. In 2007, he moved to LA Galaxy, where he kickstarted a soccer fever in the United States. For England, he earned 115 caps and was a key part of the national team throughout his career.
David Beckham
RW: Billy Meredith (Wales)
Billy Meredith was a legendary player for both Manchester City and Manchester United. He was probably the greatest right winger in Manchester United's history, where he played between 1906 and 1921. He was the oldest ever Manchester United player ever played. He gained 48 caps for Wales, for whom he scored 11 goals and won two British Home Championship titles.
LW:
Ryan Giggs
(Wales)
Giggs was Sir Alex's longest serving player at Manchester United, where he played from 1990 to 2014.
He also holds the club record for competitive appearances.
During his time at United, he won 13 Premier League winner's medals, four FA Cup winner's medals, three League Cup winner's medals and two Champions League winner's medals. He is widely considered one of the greatest British wingers in modern history. He played 64 times for Wales. He led Great Britain at the London Olypmpics in 2012.
Giggs
LW/RW: George Best (N.Ireland)
George Best was considered to be one of the greatest players ever played the game. He was voted #19 as the greatest European player by the UEFA Jublilee Poll. He was known for his "pop star" lifestyle. He was one of the "United's Trinity" that helped Manchester United to their first (and also first ever for an English club) European Cup in 1968. He won the PWA PLayer of the Year award and the Ballon d'Or that year.
George Best
AM/CM:
Paul Scholas
(England)
Scholas

was a member of Manchester United's Class of 1992. He spent 20 years with Manchester United's first team. He
won 11 Premier League, three FA Cup and two UEFA Champions League winners medals. He earned 66 caps for England before he retired from
the Three Lions

in 2004. His cap total was limited because of playing the same generation with Frank Lampard and Steve Gerrard.
AM: Sir Bobby Charlton (England)
Sir Bobby was considered one of the greatest midfielders of all-time. He was capped 106 times by England and led England to World Cup victory in 1966. He is also England's all-time leading scorer and all-time cap leader at the time of his retirement. He was selected for four World Cups (1958, 1962, 1966 and 1970). For club career, he almost played his entire career with Manchester United. He was the hero of Manchester United's the first ever European Cup trophy in 1968. He won the Ballon D'Or in 1966.
Sir Bobby
FW: Denis Law (Scotland)
Law spent 11 years at Manchester United, where he scored 237 goals in 404 appearances. His goals tally places him third in the club's history, behind Bobby Charlton and Wayne Rooney. He partnered George Best and Bobby Charlton at Manchester United, which was considered to be most popular forward line in British history. He was capped 55 times. He managed to play in the 1974 WC Finals.
FW/LW: Cristano Ronaldo (Portugal)
Cristano Ronaldo is one of the greatest forward of his generation. He is the most expensive players in history from 2009-2013 when he moved from Manchester United to Real Madrid. A
t the time of writing, he won the Ballon d'Or winner five times and won Champions' League titles with both Manchester United and Real Madrid. In 2016, he helped Portugal to win the European Championship, a month after winning the Champions' League with Real Madrid. At the time of writing, he joined Juventus.
Ronaldo's goal at the European Cup Final
FW: Eric Cantona
(France
)
Before joining Leeds United in 1992, Eric Cantona was known as the bad boy of French football. He moved to England to restart his career. In England, he became a huge star. He won the league title with Leeds United and moved
to Manchester United in 1992. At Manchester United, he became one of their best ever players. For the national team, he had 45 caps. He was a part of the ill-fated national team that failed to qualify for the World Cup Finals in 1994.
Eric the Red
ST:
Mark Hughes (Wales)
Mark Hughes was best remembered for his spells with Manchester United.
He won two Premier League title medals, four FA Cups, three League Cups and two European Cup Winners' Cups.
He
was the first player to win the PFA Players' Player of the Year award twice, in 1989 and 1991. Hughes also played for Barcelona, Chelsea, Southampton, Everton and Blackburn Rovers. He had 72 caps for Wales.
FW: Wayne Rooney(England)
In 2002, Rooney made his professional debut as a 16 years old with Everton. Less than a year later, he became England's youngest international when he played against Australia. He made his big tournament debut at Euro 2004. he scored 4 goals and named as a member of the tournament's best XI. At the time of writing, he is England's key player for every major tournament since Euro 2004. As for Manchester United, he has won 5 Preimer League titles. In 2008, he formed a partnership with Cristano Ronaldo and won the Champions' League.
Rooney with Ronaldo
Honorable Mention
Tommy Taylor (England), Nobby Stiles (England), Paddy Crerand (Scotland), Tony Dunne (Ireland), Steve Bruce (England), Steve Coppell (England), Jack Rowley (England), Paul McGrath (Ireland), Gary Pallister (England), David Herd (Scotland), Ole Gunnar Solskjaer (Norway), Norman Whiteside (N.Ireland), Dwight Yorke (T&T), Andy Cole (England), Ruud Van Nistelrooy (Netherlands), Dennis Viollet (England), Patrice Evra (France), Jaap Stam (Netherlands), Gary Bailey (England), Michael Carrick (England).
Squad Explanation
-- Manchester United has too many all-time greats because of its storied history. Peter Schmiechel, Bobby Charlton, George Best, Denis Law, Roy Keane, Eric Cantona and Ryan Giggs are automatic selections.
Billy Meredith,

Bryan Robson and Duncan Edwards are probably close to that status. I do not need to explain myself for their inclusion.
-- Manchester United won their first European Cup in 1968. Of course, I took all three members of the "United Trinity". Alex Stepney also got onto the team.
-- From their 1999 Champions' League winnig team, I have Ryan Giggs, Paul Scholes, Peter Schmeichel, Roy Keane, Gary Neville and David Beckham. Most of the players defined Manchester United's successes in the Preimership's era.
-- I selected the following players from the 2008 Champions' League winning team: Ryan Giggs, Edwin Van der Sar, Cristano Ronaldo, Roy Keane, Wayne Rooney, Rio Ferdinand and Paul Scholas.
--
Peter Schmeichel is the obvious choice here. He is considered among the greatest goalkeeper in history. Both Edwin Van De Var and

Alex Stepney won an European Cup with Manchester United.
-- Patrice Evra was great, but Dennis Irwin was Sir Alex's favourite player and Roger Byrne was the captain of the Busby Babes. It is difficult for me to select Evra over them.
-- John Carey won
the FWA Footballer of the Year as a fullback. Gary Neville made the team because of the number of appearance with the club.
-- I have seen list of greatest Manchester United players that omitted Duncan Edwards because his career was cut short. But if Sir Bobby Charlton thinks he was the greatest ever English player, then, I would respect Sir Bobby's opinion, especially on a blog about Manchester United. Roger Byrne is the only other decreased from the air disaster in Munich selected to the team.
--
Nemanja

Vidic played 9 seasons with Manchester United. I took him over Jaap Stam. Then, I selected two older centerbacks from the pre-Premiership era, Martin Buchan and Billy Foulkes. Martin Buchan is often listed as Manchester United's greatest centerback by the older fans. Paul McGrath's career was very mixed at Manchester United. He would have been the greatest centerback over here, but he had some issues that kept him away, especially under Sir Alex. So he only made my honourable mention here.
-- George Best made his debut at 17. He won the Ballon D'or at the age of 22. However, his peak faded quickly in the early 1970's. He left Manchester United in 1974 at the age of 27. Nevertheless, he is still one of Manchester United's greatest ever.
-- Dwight Yorke and Andy Cole are on my honourable mention. The pair was among the greatest striking partnership in football. I selected the two of them in pairs.
-- Cristano Ronaldo actually spent 6 seasons with Manchester United which is not too short. Plus, he won the Champions' League in 2008.
--
Wayne Rooney is the most underrated striker in England's history. His hype as a youngster while playing for Everton might create a false expectation. At times, he carried both

M

anchester United and the national team,

but

the media has not always been kind to him.

T

hey did not appreciate his contribution.

A

t the same time, he made some critical mistakes while playing for England. I am referring to the red card vs Portugal in 2006 and his reaction to the fans in 2010. That

led to a lot of unfair criticisms.
He is still the

all-time leading scorer for England and Manchester United.
-- David Beckham received many unfair criticism of him being an pop icon rather than a footballer. Yes, he was probably overrated by the mainstream media. In truth, he was very underrated by football fans, He was by far a better footballer than most football fans considered him to be. He deserved a place in this team.
-- I often found Paul Scholas underrated. In his time, he was overshadowed by Ryan Giggs, David Beckham, Wayne Rooney and Cristano Ronaldo with Manchester United. With England, he was overshadowed by Frank Lampard and Steve Gerrard. In actuality, he was one of England's greatest playmakers.
-- Paul Pogba might have won a World Cup, but his career here has not been very successful. Michael Carrick, on the other hand, was an unsung hero at the club. He played over 300 times for the Red Devils. He won make this all-time team because but had Bryan Robson, Roy Keane and Duncan Edwards ahead of him.
Busby Babes 1957

Formation
Sir Alex played a lot of 4-4-2 formations(except 2008). The Busby Babes also played with this formation. Edwards or Robson could
replace
Keane on the lineup. I only put Edwards on the bench because mush of his reputation were unfortunately based upon projection of what it might have been. Robson deserved to be a starter as much as anyone here.
Irwin could also start on the left. I could not decide between Foulkes, Buchan, Rio and Vidic. So I put the two, youngest players as the starters. This Manchester United has the depth to replace different players.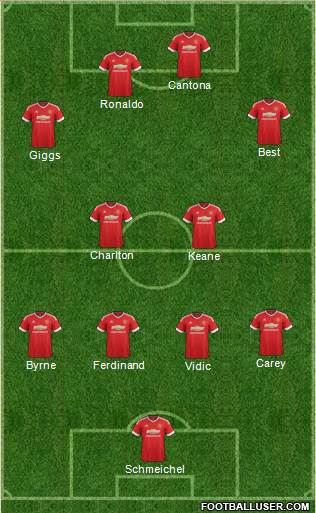 Formation II
This is the formation and lineup I considered to be the best. Ronaldo would be playing at his best position. I prefer Charlton higher up the field. Keane and Edwards could
cover
Sir Bobby in the middle. Again, I can start Robson over Edward. I rate them almost the same.
Irwin can easily make the starting eleven.