Saudi Arabia 1994
Please also see my
All-Time World Cup Team Index.
This region is best remembered for Saudi Arabia's run at the World Cup in 1994. Iran, UAE, Iraq and Kuwait also qualified for the World Cup Finals.
This is my selection of a 23 member all-time team for West Asia(including Central Asia). The number 23 was chosen because it is the official squad size for the World Cup Finals.
I have also create other Asian teams:
Australia
East Asia
Central Asia
Saudi Arabia
Iran
China
Japan
South Korea
India
Team
GK: Mohamed Al Deayea (Saudi Arabia)
Al-Deayea has split his professional career between the clubs Al-Ta'ee and Al-Hilal in Saudi Arabia. He played in four FIFA World Cups for the Saudi Arabia national team and earned a total of 178 officially recognized caps, the record for a goalkeeper. He is widely recognised as the greatest goalkeeper from the Persian Gulf. Originally he started as a handball player, but was convinced by his club and his older brother Abdullah to become a footballer.
Al Deayea
Ali Al-Habsi was one of the few players from the Arabian Peninsula who made it in Europe. He played over 100 games in the English league. At the time of writing, he plays for Reading. He has played for Bolten Wanderers, Wigan and Lyn Oslo. He has been amemberof the national team since he was 17 years old.
Naser Hejazi was Considered as one of the best goalkeepers in the history of Asia. He won the Asian Cup on two occasions in 1972 and 1976, and Asian Games title once, and competed in the 1972 Munich Olympics and 1976 Montreal Olympics and 1978 FIFA World Cup.
RB/RM:
Mehdi Mahdavikia (Iran)
Mehdi Mahdavikia was Asian Player of the Year in 2003. He was a star in Bundesliga while playing for Hamburger SV. He was chosen as their Player of the Year twice. He also played for played for Persepolis, Eintracht Frankfurt, Steel Azin and Damash Gilan He played in two World Cup Finals, 1998 and 2006 for the Iranian national team.
Mehdi Maaahdavikia
RB:
Hossein Kaebi (Iran)
Hossein Kaebi spent a season with Leicester in England, but never got his chance. He spent the rest of his career playing for various clubs in Iran. Kaebi won his first cap having just turned 16. He was capped 89 times. He had 84 caps between 2002 and 2010. He represented Iran at the 2006 World Cup Finals.
CB:
Rahman Rezaei (Iran)
Rahman Rezaei spent 7 seasons playing in Italy, six of them were in Serie A. He spent his best seasons with Messina. He was probably the most successful Iranian defender playing in Europe. He played 56 times for Iran between 2001 and 2009. He played in the 2006 World Cup Finals, but was criticized by his performance there.
CB: Saleh Nu'eimeh (Saudi Arabia)
Saleh Nu'eimeh was capped 150 times by Saudi Arabia. He is widely considered the greatest Saudi defender of all-time. He earned over 150 caps. He played in the 1984 Asian Cup, and was named in the all-star team after the 1988 AFC Asian Cup. Saudi asrabia won both tournaments. At home, he played for Al-Hilal FC.
CB:
Adnan Dirjal (Iraq)
He was one of Iraq's most famous players. He missed the 1986 World Cup Finals because of an injury, but he represented Iraq in three Olympics: 1980, 1984, 1988.
His most successful club spell came at Al-Rasheed, the club owned by Saddam Hussein's eldest son Uday, where he captained the club to three Iraqi league titles, two cups and a record three Arab Club Championships during the mid to late 80s.
CB/LB: Hamad Al-Montashari (Saudi Arabia)
Hamad Al-Montashari won the Asian player of the Year in 2005 for Al attiha's victory at the Asian Champions' League. He won back-to-back Asian Champions' League in 2004 and 2005 with
Al Ittiha. He is considered to be one of Ittihad's longest tenured players. From 2002 and 2011, he played 54 times for Saudi Arabia. He went to the World Cup Finals in 2006.
RB/LB/CB:
Andranik Eskandarian
(Iran)
Andranik Eskandarian is probably the most famous Iranian players in the world during the 1970's because he played with Pele in New York Cosmos in the NASL. He was a sweeper, but played rightback and leftback for NY Cosmos. For the national team, he won the Asian Cup in 1976 and went to the 1978 World Cup Finals. His son played for the US.
CM: Karim Bagheri (Iran)
Karim Bagheri was a star of Iran during the late 1990's. He played for Arminia Bielefeld in Germany and Charlton Atletic in England. He played over half of his professional career for Persepolis in the Iran Pro League. He played 87 times for Iran. He was remembered for sparking the comeback win against Australia that led to Iran's qualification for the World Cup Finals in 1998.
Bagheri
AM:
Ali Parvin (Iran)
Ali Parvin was considered the greatest Iranian player of all-time. He played 78 times for Iran. He won two Asian Cups in the 1970's and qualified for the World Cup Finals in 1978. He also played in the Summer Olympics in 1972 and 1976. He spent 18 seasons with Persepolis in Iran. He was selected as one of the seventeen Asian football elites by AFC and received a statue from this confederation.
Sami Al Jaber is Saudi Arabia's second highest goalscorer with 46 goals in 156 internationals. He appeared in four consecutive WC Finals, from 1994 to 2006. He was also a member of the Saudi squads which won the Asian Cup in 1996. He spent the majority of his career from 1988 to 2008 with Al-Hilal. He played briefly for Wolverhampton.
AM:
Ali Karimi (Iran)
Ali Karimi was Asia Player of the year in 2004. He has played for Fath Tehran, Persepolis, Al-Ahli Dubai, Qatar SC, Steel Azin, Schalke 04 and Tractor Sazi. He spent two seasons with Bayern Munich, winning the League/Cup Double in 2005/2006. He was capped 127 times for Iran, appearing at five major tournaments. he played in the 2006 World Cup Finals.
Radhi largely recognised as Iraqi's greatest players. He was the Asian Player of the Year in 1988. With Iraq he won 2 Arab Cups, 1 Pan-Arab Games & a Gulf Cup, while he also represented Iraq in the Olympics in 1988. He scored Iraq's only goal at the WC Finals in 1986. He was voted 9th in Asian Player of the Century.
FW: Saeed Al-Owairan (Saudi Arabia)
He scored the famous goal against Belgium at the World Cup in 1994, which was probably one of the best goals ever scored in aWC Finals. That year, he became the Asian Player of the Year. He earned 74 caps for Saudi Arabia. Owairan spent his entire club career at Al-Shabab, a Saudi club based in Riyadh.
ST:
Jassem Yacoub (Kuwait)
He was widely considered to be Kuwait's greatest player. He represented Kuwait at the 1980 Olympics and the 1982 World Cup Finals in Spain. He played his entire career with Qadsia SC.
FW: Adnan Khamis Al-Taliyani (UAE)
He played his entire career with Al-Shaab. He was capped 161 times. He is the all-time appearance leader for UAE, the top 10 in the world. He went to the World Cup Finals in 1990. He was named UAE Player of the Century.
ST: Gholam Hossein Mazloumi (Iran)
He was a star players in the 1970's. During his time as a football player, he scored 37 goals for the Iran national football team and was Iran's all-time top scorer for twelve years before his record being broken by Ali Daei. He was the top scorer at the 1974 Asian Games and the 1976 AFC Asian Cup.He won two Asian Cups(1972, 1976) and one Asian Games Gold Medal(1974). He went to the Olympics in 1976 where Iran reached the quaterfinal.
ST: Hussein Saeed (Iraq)
Considered to be Iraq's greatest player. He was their all-time leading scorer and cap record holder. He led Iraq to the WC Finals in 1986. He also won two Gulf Cups. In 1975, he joined Al-Talaba where he spent all 14 years of his career, achieving three league titles and getting the top goalscorer of the league award in three seasons.
ST: Hassan Rowshan (Iran)
He won
the Asian Games in Tehran in 1974 and Asian Cup 1976 in Tehran as well as reaching the quarterfinals of the Summer Olympics in Montreal in 1976. He was the star player as Iran qualified for the WC Finals in 1978, but an injury limited his playing time in the Frinals. He started his career with Taj Tehran(
Esteghlal F.C.)
. After the WC Finals in 1978, he went to play in UAE.
ST: Ali Daei (Iran)
Daei was capped 149 times. He
is the world's all-time leading goalscorer in men's international matches with 109 goals. He was considered one of the most successful Iranians playing in Europe. He spent 5 seasons in the Bundesliga. While playing for Hertha Berlin, he scored two goals against Chelsea in the Champions' League in 1999 which was considered one of the epic matches of the tournament.
ST: Abdullah Majed (Saudi Arabia)
He was considered the greatest player from West Asia.
He won Asian Footballer of the Year three times in 1984, 1985 and 1986. He earned 116 caps. He won the Asian Cup twice in 1984 and 1988. He played for Al-Nassr for more than 20 years scoring 320 goals making him Al-Nassr greatest player ever.
Abdullah Majed
Honorable Mention
Saeed Al-Owairan (Saudi Arabia), Nawaf Al-Temyat (Saudi Arabia), Yousef Al-Thunayan (Saudi Arabia), Adnan Khamis Al-Taliyani (UAE),
Omar Abdulrahman(UAE),
Adnan AL-Taliani(UAE), Zohair Bakhit(UAE), Ismail Matar(UAE), Khodadad Azizi (Iran), Bashar Abdullah (Kuwait), Yusif Dokhi(Kuwait), Fathi Kameel(Kuwait), Wael Sulaiman(Kuwait),
Osama Hussain (Kuwait),
Faisal Al-Dakhil (Kuwait),
Jassem Al-Houwaidi (Kuwait),
Abdullah Abu Zama (Jordan), Jamal Abu Abed(Jordan),
Mansour Miftah (Qatar),
Khodadad Azizi (Iran)
Squad Explanation
-- I am
unfamiliar
with football in this region. I did my best.
-- Andranik Eskandarian was the most famous Iranian player before the 1990's, but it was largely due to the fact that he was playing with Pele in NY Cosmos. He actually does not appear in many all-time list, I found. I still put him here because playing with Pele had risen the profile of Iranian footballers. He earned his spot through contributions to the game.

-- Maksim Shatskikh was one of the most underrated strikers playing in Europe. If he represented Russia or Ukraine, he would have secured a big move to a bigger team in Western Europe.
-- Saeed Al-Owairan left a strong impression at the WC finals in 1994. He did more for Western Asian football with that goal than most players. I selected him for that one goal. He also did have a wonderful career to support his claim to be on this team.
--
Khodadad Azizi was very talented, but his club career outside Iran did not go well. I gave his spot to players who succeeded in Europe.
Starting lineup
Formation I: 4-1-3-2
This is a very offensive formation with the best players on the field.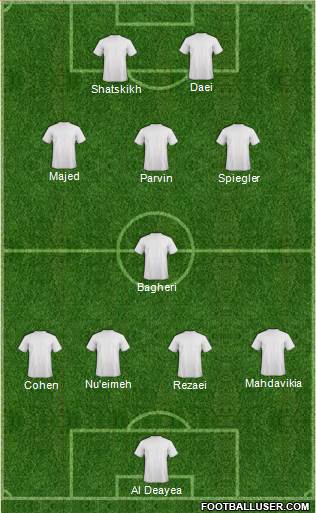 Formation II: 4-2-1-3
This formation would be more balanced. I played an extra midfielder. I pushed
Mahdavikia to the midfield and added another rightback.