Czechoslovakia 1976 European Champion
This is my all-time team for Czechoslovakia(the Czech Republic and Slovakia)
.
If there were an All-Time World Cup, this would be the 23 players I would bring to the tournament.
Please also see my
All-Time World Cup Team Index.
Czech Republic
Slovakia
Czechoslovakia had a long successful football history even through it was often overshadowed by its neighbours, namely the Austria's Wunderteam of the 1930's, Hungary's Might Magyars of the 1950's and Germany of the entire post-World War period. They never had a super team that poets, musicians, etc would write about, but their record in big tournaments are impressive. Czechoslovakia reached the World Cup Final twice, losing to Italy in 1938 and to Brazil 1962. In the European Championship, they won it in 1976, earning a third place in 1960 and 1980. As the Czech Republic, they were runner-up in 1996 and third in 2004.
Their best teams were probably the World Cup team in 1962 and the European Champion in 1976.
Josef

Masopust won the 1962 Ballon d'Or after the WC in Chile. In 1976,
Antonin Panenk

's penalty during the European Championship Final is remembered as one of the best ever. It inspired many penalty-takers in the future generation.
After the breakup of Czechoslovakia, the Czech Republic inherited their record. In 1996, they made a Cinderella run at the European Championship. They beat Italy, Portugal and France before losing to Germany with a Golden Goal in the Final. Although they went out in the first round at Euro 2000, they were remembered for their epic battles with France and Holland. In 2004, they reached the semifinal after beating Germany, Holland and Denmark.
As for Slovakia, they qualified for the WC 2010. They beat Italy 3-2 on the last match of Group Stage and advanced to the Round of 16 before losing to Holland 2-1.
Team
GK: Frantisek Planicka (Czech Republic)
Frantisek Planicka was considered one of the greatest keepers of his generation. He was known for his sportsmenship. He went to play in two World Cup Finals in 1934 and 1938, where he finished second in 1934. He was their captain. He played all his career for Slavia Prague, during which time the club won the Czech league eight times and the Mitropa Cup once.
GK: Petr Cech
(Czech Republic)
Petr Cech is best remembered for being Chelsea's undisputred starting keeper from 2004 to 2014. He won almost everything in club football. He is considered among the greatest of his era. He also played for Sparta Prague, Rennes and Arsenal. For Czech Republic, he is the most capped player in the history of the Czech team, with 124 caps, and represented the country at the 2006 World Cup, as well as the 2004, 2008, 2012, and 2016 European Championships.
GK: Ivo Viktor (Czech Republic)
Ivo Viktor placed third in the 1976 Ballon d'Or, and was a five-time winner of the Czechoslovak Footballer of the Year award, and a two-time winner of the European Goalkeeper of the Year award. He was the hero of Euro 1976, where Czechoslovakia won the championship. He played for Czechoslovakia for 63 times between 1966 and 1977. The majority of his senior club career was with Dukla Prague.
RB: Karol Dobias (Slovakia)
Karol Dobias was capped 67 times for Czechoslovakia, scored 6 goals. He was a participant at the 1970 FIFA World Cup. and a member of Czechoslovak winning team at 1976 European Football Championship. In the 1976 final game Dobiaš scored a goal that gave Czechoslovakia a 2-0 lead against West Germany. . In 1970 and 1971, he was named Czechoslovak Footballer of the Year.
CB: Jaroslav Burgr
(Czech Republic)
Jaroslav Burgr was a participant in two World Cup Finals, in 1934 and 1938. He played 57 matches for the national team between 1929 and 1938, while captaining the national team on several occasions. He also played for Bohemia under the German occupation.
He played domestic club football mostly for AC Sparta Prague, where he collected 7 league titles. He played for SK Most.
CB: Anton Ondrus (Slovakia)
Anton Ondrus played 58 matches for Czechoslovakia and scored 9 goals. As the captain, he led the national team in the 1976 UEFA European Championship, winning against West Germany in the Final. He played for Slovan Bratislava from 1970 to 1980, and he served as the captain. In the West, he played for Club Brugge K.V. in Belgium, CS Thonon-les-Bains in France and FC Biel-Bienne in Switzerland.
CB: Jan Popluhar
(Slovakia)
Jan Popluhar was one of the greatest defender from the Warsaw Pact countries. He was best remembered for taking Czechoslovakia to the Final of the World Cup in 1962. He earned 62 caps. He played 15 seasons for ŠK Slovan Bratislava. In 1968, he moved to French league side Olympique Lyonnais. Two seasons there were enough, but subsequently he spent five years with Austrian amateur club SK Slovan Vienna as player/coach.
Jan Popluhar
CB: Miroslav Kadlec
(Czech Republic)
Miroslav Kadlec played for Czechoslovakia and later the Czech Republic; for both he played a total of 64 matches and scored two goals. He took part in the 1990 FIFA World Cup. Six years later, he led the Czech national football team on its way to finish second at the 1996 UEFA European Football Championship. During his career, Kadlec played for four Czech clubs, and also had an eight-year stint with Bundesliga's 1. FC Kaiserslautern, where he was crowned league champion in 1991 and 1998.
CB: Tomas Ujfalusi
(Czech Republic)
Tomas Ujfalusi
played 78 times for the Czech Republic, representing the nation at the 2006 World Cup and two European Championships. He was a key player for the 2000s Golden Generation. He played for Hamburg, Atlético Madrid, Galatasaray, Sigma Olomouc and Sparta Prague. He won the Europa League in 2010 with Atletico Madrid.
LB: Marek Jankulovski
(Czech Republic)
Marek Jankulovski's most notable achievements include winning the UEFA Champions League with A.C. Milan and being voted the 2007 Czech Footballer of the Year. He earned 77 caps for the Czech Republic, and represented them at three European Championships, the 2000 Olympics and the 2006 World Cup.
LB: Ladislav Novak
(Czech Republic)
Ladislav Novak played 75 matches for Czechoslovakia, 71 of them as its team captain. He went to three World Cup Finals: 1954, 1958 and 1962, where Czechoslavia finished second in 1962. In his country, Novák played mainly for Dukla Prague and won 8 championship titles with them.
CM: Josef Masopust
(Czech Republic)
Josef Masopust is regarded as the greatest player coming from Czechoslovakia. He
led the Czechoslovakia team that reached the 1962 FIFA World Cup final, losing to Brazil.
In Europe, he took Czechoslovakia to third place at the 1960 UEFA European Football Championship. He was capped 63 times. He was named European Footballer of the Year in 1962. For domestic football, Masopust won eight league championships and three national cups with Dukla.
Josef Masopust
CM: Svatopluk Pluskal
(Czech Republic)
Svatopluk Pluskal was capped 58 times from 1952 and 1965. He played in three World Cup Finals from 1954, 1958 and 1962. In 1962, he formed a partnership in the midfield with Josef Masopust and led his country to second place. The best years of his club career were spent at Dukla Prague, the army club, where he played for almost 16 years.
RW: Karel Poborský
(Czech Republic)
Karel Poborský
is the all-time leader in appearances for the Czech national team, with 118 between 1994 and 2006. He also played in three European Championships, being named in the Team of the Tournament at Euro 96 after helping the Czechs to the final. His most famous career in club football were spent with Manchester United and Benfica.
LW/AM: Pavel Nedved
(Czech Republic)
Pavel Nedved

was probably the best player from the region after the breakup of Czechoslovakia. He
was a key player as the Czech Republic finished second at Euro 1996, and reached the semi-final at Euro 2004. At Lazio, he won the Scudetti in 1999-2000, only the second league title in Lazio's history. With Juventus, he led the team to the Final of the Champions' League final in 2013, but he sat out ofthe game due to suspension.
He won the European Footballer of the that year.
Pavel Nedved
AM: Antonin Panenka
(Czech Republic)
Antonin Panenka played most of his career for Bohemians Prague. Panenka won the 1976 European Championship with Czechoslovakia. In the final against West Germany he scored the winning penalty in the shootout with a softly chipped ball up the middle as the goalie dived away; this style of penalty is now called the "Panenka penalty".
AM: Marek Hamšík
(Slovakia)
At the time of writing, Marek Hamšík earned over 100 caps for Slovakia. He made a name at the World Cup in 2010, where Slovakia qualified for their first ever Finals and beat Italy in the First Round. He also helped Slovakia to qualify for their first ever European Championship in 2016. At the club level, he played for Slovan Bratislava and Brescia before joining Napoli in 2007. At Napoli, he established as one of the best midfielders in Serie A.
Marek Hamšík
AM/FW: Oldrich Nejedly
(Czech Republic)
Oldrich Nejedly spent his entire career at Sparta Prague as an inside-forward and he is considered one of Czechoslovakia's greatest players. He was top goalscorer of the 1934 World Cup. He was awarded the Bronze Ball in the 1934 World Cup as the third most outstanding player of the tournament and was voted into the All Star Team of the tournament.
AM: Tomas Rosicky
(Czech Republic)
Tomas Rosicky was the star playmaker for the Czech Republic throughout the 2000s. He has taken part in four UEFA European Championships as well as the 2006 FIFA World Cup.
He was Czech Footballer of the Year in 2001, 2002 and 2006. He started his career with Sparta Prague, and he had notable stints with Borussia Dortmund and Arsenal.
FW: Laszlo Kubala
(Slovakia)
Laszlo Kubala was born in Hungary of a multi-cultural background. He was known as one of the greatest Barcelona players ever. He still managed to win 4 Li Liga titles in the 1950's in an era dominated by Real Madrid. In 1961, Barcelona eliminated Real Madrid from the European Cup, the first ever loss by Real Madrid at the tournament. He was capped by Hungry, Spain and Czechoslovakia, but never had a long international due being an exile living in the West.
Laszlo Kubala
ST: Antonin Puc
(Czech Republic)
Antonin Puc played 61 matches for Czechoslovakia, scoring 35 goals. He played for Czechoslovakia in the 1934 FIFA World Cup scoring two goals, including one in the final, a 2-1 loss against Italy, and also played in the 1938 edition. He spent most of his club career with Slavia Prague. He is the all-time leading scorer for the Czechoslovak national team.
ST: Josef Bican (Czech Republic)
Josef Bican was a member of the Austrian Wunderteam of the 1930s. He is one of the most prolific scorers in history.
He was, in the leagues that he played, the top-scorer 12 times during his 27 years career and Europe's top scorer in five consecutive season. He played for Rapid Wien before moving to play in Czechoslovakia. He also played for Czechoslovakia, but missed out on the WC Finals in 1939.
ST: Jan Koller
(Czech Republic)
Jan Koller is best remembered for being the huge striker playing for the Czech Republic and Borussia Dortmund in the 2000s. He began his career at Sparta Prague, then moved to Belgium with Lokeren and Anderlecht. Between 2001 and 2006, he played for Borussia Dortmund. He also played for Monaco. At the international level, he is the all-time leading goal scorer for the Czech Republic, with 55 goals in 91 appearances. He played in 2006 World Cup Finals and two other European Championship.
Jan Koller
Honorable Mention
Vladimír Šmicer, Milan Baroš, Tomáš Skuhravý, Marian Masny,
Karel Pesek,
Patrik Berger, Zdeněk Nehoda,
Jan Lála, Ladislav Kuna,
Squad Explanation
-- Czechoslovakia had many Golden teams. My squad is a mixture of all of those great teams.
-- Czechoslovakia finished second at the 1962 World Cup Finals in Chile. They lost to a Brazilian team, inspired by Garrincha. From that team, I selected Joesf Masopust,
Svatopluk Pluskal, Jan Popluhar and
Ladislav Novak into my all-time team.
-- Czechoslovakia beat West Ger

many in the Final of the European Championship in 1976. It stopped the Germans from getting a triple crown(they already won Euro 1972 and World Cup Finals 1974).
Ivo Viktor, Antonin Panenka, Anton Ondrus and Karol Dobias are selected for my all-time team.
--Antonin Panenka had a penalty named after him.
-- The post-Czechoslovakia generation has more exposure outside the Warsaw Pact due to playing in the bigger Europe leagues. Pavel Nedved, Petr Cech,
Tomas Ujfalus, Marek Jankulovski, Jan Koller,
Karel Poborský, Tomas Rosicky and
Marek Hamšík all had better club careers than the older generations.
-- Laszlo Kubala had played for three different national teams, but his first ever cap was from Czechoslovakia. So he belonged to this all-time team.
-- Bican also played for Czechoslovakia.
Starting lineup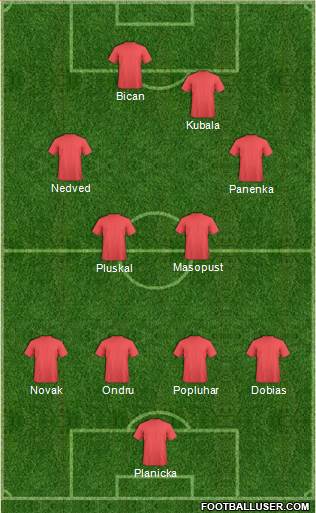 Please also see my
All-Time World Cup Team Index.