Argentina 1978
This is my all-time team for Arge

ntina
.
If there were an All-Time World Cup, this would be the 23 players I would bring to the tournament.
Please also see my
All-Time World Cup Team Index.
Boca J
uniors, River Plate, Independi

ente

, Estudiantes de La Plata
San Lorenzo
,
Racing Club, Velez Sarsfield.
Argentine-born players capped by other national teams
What if Argentina sent this team to Sweden 1958
Argentina All-Time Team before 1978,
Argentina All-Time Team After Maradona.
Provincia de Córdoba, Argentina All-Time Team
Provincia de Santa Fe, Argentina All-Time Team
Provincia de Buenos Aires
The City of Buenos Aires
Since the very first WC Finals, Argentina has always been one of the best teams in the world.
However, they did not win their first WC until 1978. They reached the Final in 1930. Their hero of the 1930 World Cup Luis Monti won a WC in 1934, but with Italy. And then,
members of "La Máquina" did not get to play in the WC Finals because of the War. In the periods after the War, great players such as Alfredo Di Stefano and Omar Sivori never went to the WC Finals with Argentina. Finally, Argentina won their first WC in 1978 with the likes of Ubaldo Fillol, Daniel Passarella and Mario Kempes. Eight year later, Diego Maradona's brillant individual performance helped Argentina to their second World Cup. Argentina also had great team in 1994, 1998 and 2006.
If there were an All-Time World Cup, this would be the 23 players I would bring to the tournament. The team is not an All-Star team. I tried to be as realistic as possible. A few of the players are selected for tactical reasons at the expense of more famous players.
Argentina 1986
Team
GK: Ubaldo Fillol
Ubaldo Fillol was considered one of the greatest Latin American keeper.

He was the 1978 WC winning goalkeeper for Argentina. He also went to the WC Finals in 1974 and 1982. In 1977, he became the first keeper to win the Player of the Year award in Argentina. For his club career, he started with Quilmes. He played mainly for River Plate. He also had spells with Racing Club, Flamengo, Atletico Madrid, etc.
GK: Amadeo Carrizo
Amadeo Carrizo was the young goalkeeper for River Plate's
"La Máquina" in 1940's. For them, h

e won five Championship trophies in 1952, 1953, 1955, 1956 and 1957. He was considered one of the greatest keeper from South America. Despite his greatness, Argentina constantly refused to select him. He only earned 20 caps between 1954 and 1964. He went to the World Cup Finals in 1958. He also played for Millonarios in Colombia.
Amadeo Carrizo
GK: Rogelio Dominguez
He played around the same time as Carrizo. He earned 59 caps. He missed the 1958 World Cup Finals because he moved to Real Madrid in 1957 and Argentina did not select overseas players. With Real Madrid, he won two European Cups playing alongside with Alfredo Di Stefano. Before Real Madrid, he played for Racing Club in Argentina.
RB: Javier Zanetti
Javier Zanetti was the starting rightback for Inter Milan for almost 20 years.
He served as their captain from 1999, earning him the nickname "Il Capitano" (The Captain). He held all kind of appearance records in Italy. He widely considered to be Argentina's best ever rightback.
He holds the record of the most capped player in the history of the Argentine national team and played in the 1996 Olympic tournament, five Copa América tournaments and two World Cups, in 1998 and 2002.
Javier Zanetti
RB: Carlos Sosa
Carlos Sosa started his career with Atlanta in 1939.

H

e joined Boca Juniors in the 1941, wher

e

he

established as

one of the best defenders of his generation. He won two Argentine Primera División. He went to play in France in 1952. He played for Racing Paris and Red Stars in Paris. With Argent

ina, he was capped 12 times. He won two Copa Americas(1945 and 1946).
CB: Daniel Passarella
Daniel Passarella

was one of the best center-backs ever played the game. He captained Argentina when it won the World Cup in 1978. He also went to the World Cup Finals in 1982, but he was forced into have a non-playing role in 1986 after a row with Diego Maradona. He was also known for scoring over 140 goals in his career, very high for a defender. His career was associated with River Plate.
H

e also played for Fiorentina

and Inter Milan in Italy.
Daniel Passarella
CB: Oscar Ruggeri
Oscar Ruggeri

played in 3 World Cup Finals, winning the one in 1986 and finishing second in 1990. He was La Liga Foreign Player of the Year in 1989 and South American Player of the Year in 1991. He played for both River Plate and Boca Juniors as well as Real Madrid in Spain. He also had career with Vélez Sarsfield, San Lorenzo, etc.
CB: Roberto Perfumo
Nicknamed El Mariscal, Perfumo is considered as one of the best Argentine defenders ever. At club level, Perfumo played for Racing, River Plate and Brazilian team Cruzeiro. He was a legend with Racing Club in Argentina
winning the Primera title, the Copa Libertadores and the Intercontinental Cup. He was considered their greatest player. He had 37 caps. He played in 1966 and 1974 WC Finals.
CB: Roberto Ayala
Roberto Ayala
captained Argentina for 63 times, a record. He is also the second cap record holder for Argentina with 115 caps. He went to three World Cup Finals: 1998, 2002 and 2006. For club football, he was best remembered for winning the UEFA Cup with Valencia. He also played for Real Zaragoza in Spain, Milan and Napoli in Italy and River Plate in his native Argentina.
LB: Silvio Marzolini
In 1959, Silvio Marzolini started his career with Ferro Carril Oeste. A year later, he joined Boca Juniors where he played until 1972 and became an idol. He was considered one of the greatest leftbacks in Latin American football history. For Argentina, he had 28 caps between 1960 and 1969. He went to the 1962 and the 1966 World Cup Finals.
LB: Alberto Tarantini
Alberto Tarantini had 61 caps between 1974 and 1982. He was the starting leftback for Argentina in 1978 and 1982, where Argentina won their first WC in 1978. He was infamously known for his career in England where he only lasted 28 matches. He played for River Plate, Boca Juniors and Talleres de Córdoba, River Plate, and European teams SC Bastia, Toulouse and FC St. Gallen.
DM: Luis Monti
The ruthless central midfielder led Argentina to the WC Final in 1930 where they lost to Uruguay. Four years later, he became an Oriundo and won the World Cup with Italy. He was also remembered for getting injured at the Battle of Highbury in 1934 when England played Italy.
Monti started his career in 1921 with Huracán. The following year he signed with Boca Juniors but left without playing a game. He joined San Lorenzo. In 1930, he joined Juventus in Italy, where he played until 1939.
Luis Monti
DM: Nestor Rossi
Nestor Rossi is one of Argentina's greatest defensive midfielders. Nicknamed "Pipo", he started his career at River Plate, playing from 1945 to 1949, and then again from 1955 to 1958, winning a total of 5 Argentine leagues. He played with La Maquina, but at the end of their peak. He also won 6 more with Millonarios in Colombia. He played in the 1958 World Cup Finals and was a part of their 1957 Copa America winning team.
CM: Fernando Redondo
Fernando Redondo
played his first game in the Primera División at only 16 for Argentinos Juniors, and remained five years with the team before moving abroad to CD Tenerife in Spain. He joined Real Madrid in 1994, where he would become one of the best central midfielders in Real Madrid's history. He won two Champions' League with them in 1998 and 2000. For the national team, he only picked up 29 caps because he had issues with various managers.
Fernando Redondo
CM/AM/FW: Alfredo Di Stefano
The best player in the world before the emerge of Pele and Maradona. He was one of the younger member of the great River Plate in the 1940's. In 1949, he moved to play in Colombia before moving to Europe in 1953. He won 5 straight European Cups with Real Madrid. He was credited in turning Real Madrid into a legendary club. His international career was limited to the fact that Argentina did not select overseas players. He played for Argentina, Colombia and Spain.
Alfredo Di Stefano
LW:

Félix Loustau
A member of
River Plate's
"La Máquina,
one of the greatest team in the history of football. He won 8 national titles during his time at the club. He usually played as an outside left and he is considered to be one of Argentina's greatest wingers.
Because the peak of his career was during the 2nd World War, his international career was very limited. Nevertheless, he played 28 times for Argentina scoring ten goals. He won three straight Copa America in 1945, 1946, and 1947.
AM: Diego Maradona
Maradona was considered the second best player in history after Pele. He won the World Cup in 1986, scoring the best goal in the history of the World Cup when he scored against England. He also played in the WC Finals in 1982, 1990 and 1994. For club football, he was best remembered for leading Napoli to break the dominance of the Northern Italian clubs in the Serie A. Napoli won two league titles and a UEFA Cup. He was also considered to be Boca Juniors' greatest player.
Diego Maradona
RW/FW: Lionel Messi
Born and raised in central Argentina, Messi was diagnosed with a growth hormone deficiency as a child. At age 13, he relocated to Spain to join Barcelona.
At time of writing, he w
on 4 World Player of the Year and 5 Ballon d'Or.
For Argentina, he has played over 140 times. At the time of writing, he has not won an international trophy for the national team, but reached three Finals in his career.
SS/FW: Adolfo Pedernera
He was a member of
"La Máquina". He is still considered by many to be one of the greatest Argentine players of all-time. He was elected the 12th best South american footballer of the 20th century in a poll by the IFFHS in 2000. He moved to Atlanta in 1947 and
Millonarios in Colombia. Because of the Second World War, he did not play many games for Argentina. He still won the Copa America 1941 and 1945.
AM/FW: José Manuel Moreno
José Manuel Moreno was the star of

"La Máquina" of River Plate in the 1940's. Some older fans in Argentina considered him better than Diego Maradona and Alfredo Di Stefano. He earned 34 caps for Argentina, but never played in the World Cup Finals due to the World War II, but won
the South American Championships of 1941, 1942 and 1947. He also played club football in Mexico and Colombia.
José Manuel Moreno
SS/
FW:
Omar Sivori
After Argentina won the Copa America in 1957, he joined Juventus where he enjoyed 8 successful years. He was credited with the resurgence of the club.
With John Charles and Giampiero Boniperti, he formed "the Magical Trio" with the club. He won the Ballon d'Or in 1961. He also played for River Plate in Argentina and Napoli in Italy.
ST/FW:
Ángel Labruna
Ángel Labruna is the second top scorer of the Argentine First Division with 293 goals. He was also part of River Plate's La Máquina (The Machine), and he was considered one of the best South-American footballers of his generation. He played 37 matches for Argentina, scoring 17 goals. He also won two South American Championships (1946 and 1955) and as a nearly 40-year-old he played in the final phase of 1958 World Cup held in Sweden.
ST: Gabriel Batistuta
Gabriel Batistuta is the current top-scorer for Argentina.
He first gained international recognition when Argentina won the Copa America in 1991 where he finished as the top scorer.

He earned a move to Fiorentina spending the next 9 seasons there while becoming their all-time leading scorer. In 2000, he moved to Roma and won the scudetto in his first season. He played 77 times for Argentina. He went to the World Cup Finals in 1994, 1998 and 2002.
Gabriel Batistuta
Honorable Mention
Hugo Gatti,
Juan Carlos Muñoz,

Ricardo Bochini, René Houseman, Juan Roman Riquelme,
Antonio Rattin, Diego Simeone, Esteban Cambiasso, Juan Sebastian Veron, Ermindo Onega, Raimundo Orsi, Omar Oreste Corbatta, Luis Artime,
Bernabe Ferreyra, Mario Kempes, Sergio Aguero, Hernan Crespo, Juan Pablo Sorin, Walter Samuel, Javier Mascherano, Jose Ramos Delgado, Gonzalo Higuaín, Ángel Di María, Jorge Valdano, Osvaldo Ardiles, Antonio Roma, Nery Pumpido, Hugo Gatti.
Squad Explaination
-- Diego Maradona, Lionel Messi, Daniel Passarella and Alfredo Di Stefano are automatic selection. No need to explain. Omar Sivori and Gabriel Batistuta are close of being automatic selections.
-- Both World Cup winning teams are underrepresented. For the 1978 team, I only selected Ubaldo Fillol, Alberto Tarantini and Daniel Passarella.
-- I only had two players from the 1986 World Cup team. Only Diego Maradona and Oscar Ruggeri made the team.
-- Most players played with or before Diego Maradona. Only four players are on my Argentina All-Time Team After Maradona. Two of them was Fernando Redondo and Gabriel Batistuta
who played with Maradona.
-- For goalkeepers, Amadeo Carrizo and Ubaldo Fillol are obvious choices. Then, I took Rogelio Dominguez who played at the same time as Amadeo Carrizo and he sometimes started ahead of Carrizo on the national team.
-- The four centerbacks are obvious. Roberto Perfumo, Oscar Ruggeri, Daniel Passarella and Roberto Ayala easily earned their spots. Javier Mascherano only made honorable mention.
-- On the right side, Javier Zanetti had a 20 year career at the top level. He is among the greatest ever rightback ever played the game. Carlos Sosa is little known outside of Argentina, but he is highly rated in Argentina.
-- Silvio Marzolini was a great left back, but the backup player is weak. I went with Alberto Tarantini over Juan Palbo Sorin. Both players did not play well in Europe. However, Tarantini played in an era when South American club football was on par with Europe. His failure in England might have been due to other factors such as cultural shocks. He also won a World Cup.
-- Ricardo Bochini and Juan Roman Riquelme did not make the team because the team already loaded with many attack midfielders and secondary forwards. I have Diego Maradona, José Manuel Moreno, Omar Sivori, Lionel Messi and Alfredo di Stefano.
-- Originally, I wanted to take
Osvaldo Ardiles because I might need a deep lying midfielder, but Fernando
Redondo can also moved the ball up the field. He is much more than a defensive midfielder.
-- Luis Monti was a star with Argentina before switching to Italy. Despite winning a World Cup with Italy, he is not on my all-time team for
Italy
. He played with Argebtina in the 1930 World Cup Finals.
-- Antonio Rattin's name recognition in the English speaking world came from his incident in 1966. He was actually a very good midfielder. That incident might or might not help his career since every soccer history buff knows him because of the incident. But I kept him off the team because I already have Fernando Redondo, Luis Monti and Nestor Rossi ahead of him. It is almost impossible to break into the team with the three of them on the team. Osvaldo Ardiles, Javier Mascherano, Diego Simeone, Esteban Cambiasso and Juan Sebastian Veron are all great midfielders. They only made honorable mention.
-- Fernando Redondo never got his chance with the national team. He got his chance here. Alfredo Di Stefano also did not play much for Argentina.
-- Mario Kempes was the hero of the 1978 World Cup winning team, but Gabriel Batistuata, Lionel Messi, Omar Sivori, Moreno, Adolfo Pedernera, Alfredo Di Stefano and Diego Maradona are ahead of him for a spot of the team. So he only made honorable mention.
-- Angel Labruna is a surprise exclusion. I just cannot find any space for him. Again the list of all-timers are too huge. The other members of "La Máquina" of River Plate made the team.
-- Some older Argentine considered José Manuel Moreno to be greater than Diego Maradona and Alfredo Di Stefano.
-- The players from River Plate's La Máquina never got the chance to shine in a World Cup Finals.
-- Omar Sivori won the Ballon d'Or in 1961.
Starting lineups
Formation I
Cesar Luis Menotti

developed a personal rivalry with
Carlos Bilardo

in the 1970's and 1980's.
They were two different styles of football. Menotti was more offensive and artistic while

Bilardo's style was more defensive and practical. I based this 4-2-4 formation with Menotti's team in 1978. Diego Maradona would have a free role enjoyed by Mario Kempas in 1978. I thought of playing him on the left because Jose Moreno usually played on the right behind the forward line. In the end, Maradona should stay as the center of attack, I reasoned. Lionel Messi and Jose Moreno would move around the field in a free flowing style.
Alfred Di Stefano would be the deep-lying midfielder.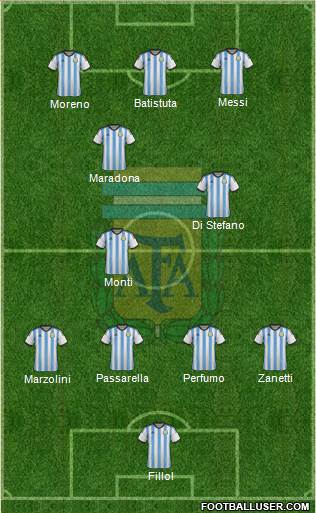 Cesar Luis Menotti's team
Cesar Luis Menotti
Formation II
Carlos Bilardo used a similar formation in 1986.
I forced Di Stefano to the left so that Maradona could play in his original

position.
I considered playing Messi up front where Barcelona often used him.
This team would be protected by 6 defensive players.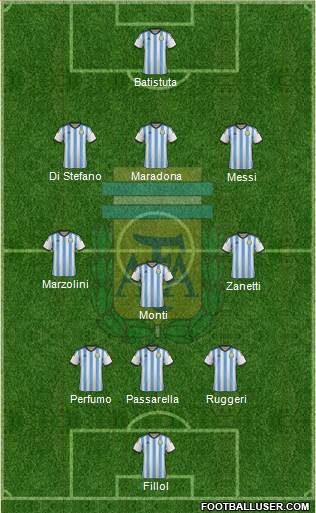 Carlos Bilardo's team
Carlos Bilardo
Formation III
If I were managing this team,
this is the formation I would use

. I move Maradona to the left because he was a better left-side player than any of the obvious starters on the team. I brought in Redondo to run the midfield.